Every small-to-medium-sized business, or the agency working on behalf of a small business, has one central goal with local business SEO: to get more leads.
Ranking in Google Maps and local organic search is an important part of getting those leads.
You can have great technical and on-site SEO, but if your reviews are non-existent or are below a 3.0 average, you have other issues that need to be dealt with first.
So, how do you rank in the local pack and local organic results?
In this guide, I'm going to walk you through the most important success factors for both Google Maps (the local map pack) and local organic search.
I'm also going to be touching on some "tactics" that don't help you rank at all, and I'll finish up by providing a priorities list based on you or your client's current positioning.
Two Different Opportunities for SMBs
I've said this before, but it's worth mentioning again: local business SEO is not just the map pack/local pack. Below those three map pack results are regular organic results.
The algorithms in play for Google Maps are different from the algorithms used in localized organic results. With that in mind, I'll be covering the different strategies to optimize for both of these types of results.
Before we get into specific success factors, I have to reiterate the importance of keyword research. Instead of covering it again, check out the two posts I've done on local keyword research:
Knowing what keywords (topics) you want to rank for is critical but backing it up with Google Search Console data is invaluable to any local business SEO campaign.
I go over this in the first article I linked to above, but I'll repeat it: people search differently in different locations. 
If you've built your keyword list based on Semrush or any other third-party tool, that's great. But don't forget to match it up with your GSC data!
Ok, off my keyword soapbox, let's dive into key aspects of optimization for local business SEO.
Key Map Pack Optimizations
Google My Business has a Help article that talks about how Google determines local ranking.
Specifically, they mention Relevance, Distance, and Prominence.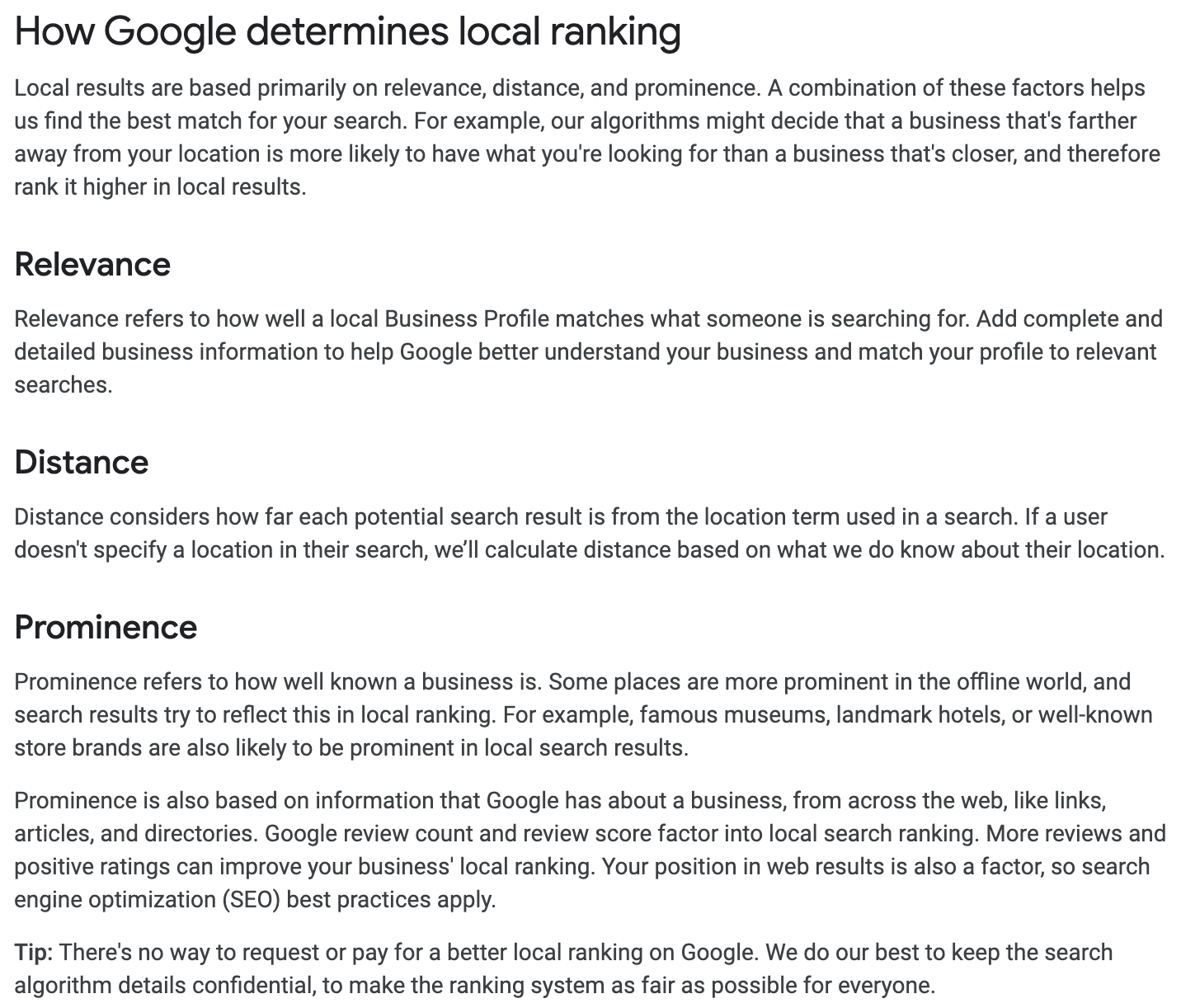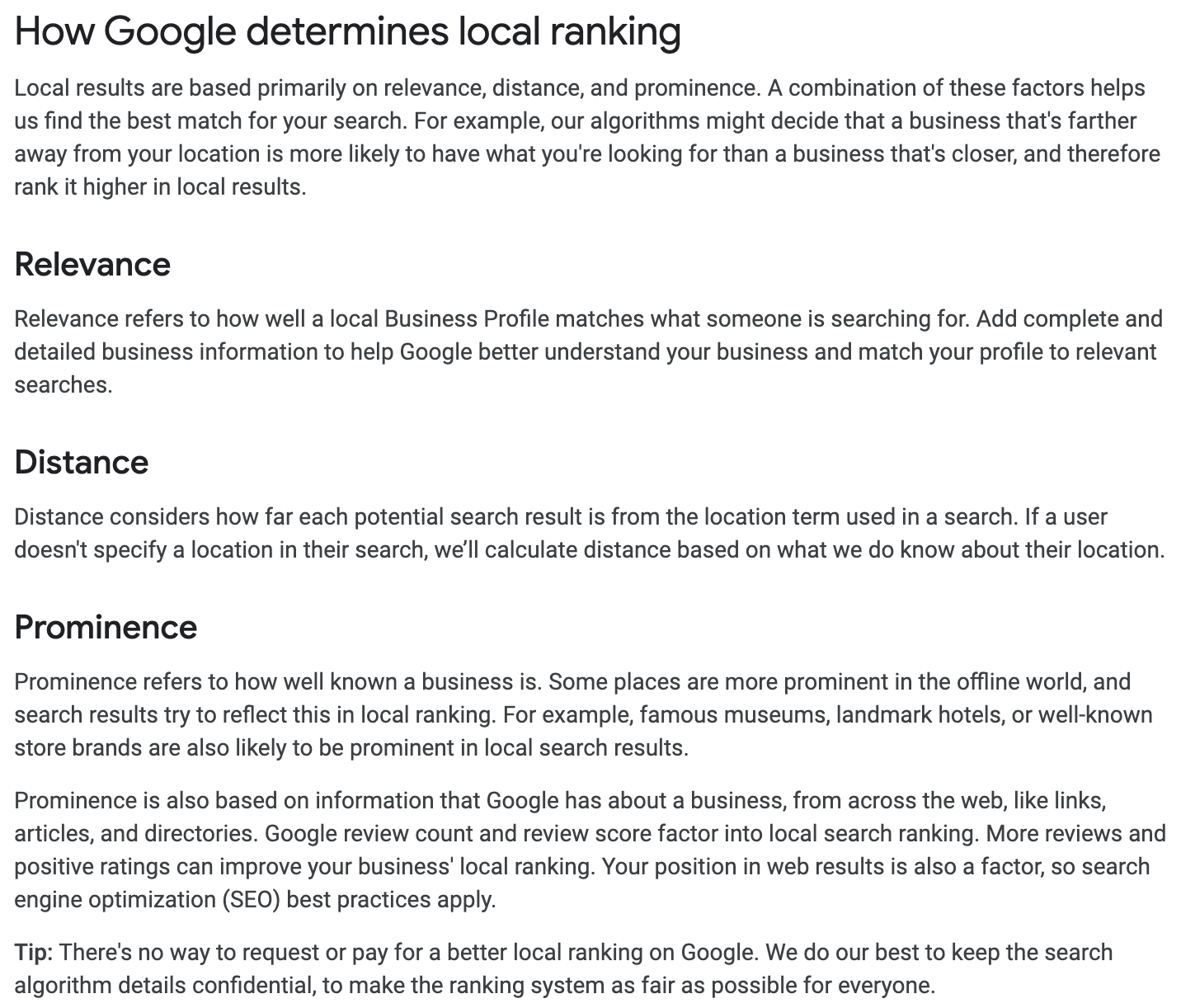 Relevance refers to the completion of your Google My Business profile. You can influence Relevance.

Distance is just how it sounds. You can't influence the distance from someone searching for your product or service.

Prominence refers to how well-known a local business/entity is. You can absolutely influence Prominence.
Google My Business Listing Completion (Relevance)
The second sentence from the Google Support article states:
"Add complete and detailed business information to help Google better understand your business and match your profile to relevant searches."
So, make sure your Google My Business listing is filled out.
Business name: Use your legal business name. 
We have to bring up a sad point about the business name and its influence on map pack rankings.
If you have a keyword and/or location in your business name, you have a massive advantage.
This is why Google My Business spam is alive and well (more on this soon). If you violate the guidelines and create fake Google My Business listings that have the business be the main keyword, it will likely rank prominently, even without a website or any reviews.
Example – ABC Heating & Cooling of Portland vs. ABC Inc.
ABC Heating & Cooling of Portland has keywords and a location in their business name. ABC Inc does not. 
This brings up somewhat of a controversial topic. As a legitimate business owner (ABC Inc), should you change your business name?
That decision needs to be thought out and done correctly if implemented.
If you can't infer what your business does by the name, you might consider changing it.
If you decide to update your business name, it's not as easy as getting a DBA (Doing Business As) and updating your business name on Google My Business.
Here's a checklist of things to do before updating your business name on Google My Business:
Create a business name that doesn't just add a keyword modifier to it

Make sure the original brand name is in your new business name

File a DBA/ABN for the new business name

Get a new logo for the new business name

Update any brand mentions on your website to the new business name

Get utility bills updated in the new business name

Get any insurance the business has updated in the new business name

Update claimed local listings to the new business name or use a tool like Semrush's Listing Management service

If a governing body licenses your business, get it updated in the new business name

Have signage? It needs to be updated

Submit a press release announcing the new business name
Once all of the above has been completed, you can then change your business name within Google My Business.
Address: If your business is a traditional brick and mortar, make sure your address is visible. 
If your business is a Service Area Business that does not see customers from your location, you should be hiding your address and then set your Service areas.
If your business is a Service Area Business but does allow customers to come to your location, include the address AND set your service areas.
Categories: The primary category you choose for your listing will have more weight than the additional categories you add. 
Selecting your primary category can also depend on if your business has any seasonality.
As an example, HVAC companies typically offer heating and cooling services. During the winter months, their primary category should be related to heating. During the summer months, their primary category should be related to cooling.
If you need help figuring out your primary category, do some searches for your primary keywords in Google Maps and take note of the primary category being used for the top listings. 
If you want to find more related categories to your primary or additional categories, the GMB category tool by PlePer is very helpful.
Start by typing in a product or service you offer to find relevant categories

Once you find a good category, over to the right, you'll see Related categories; click it

The tool will show you related categories and their usage from analyzing more than 50k listings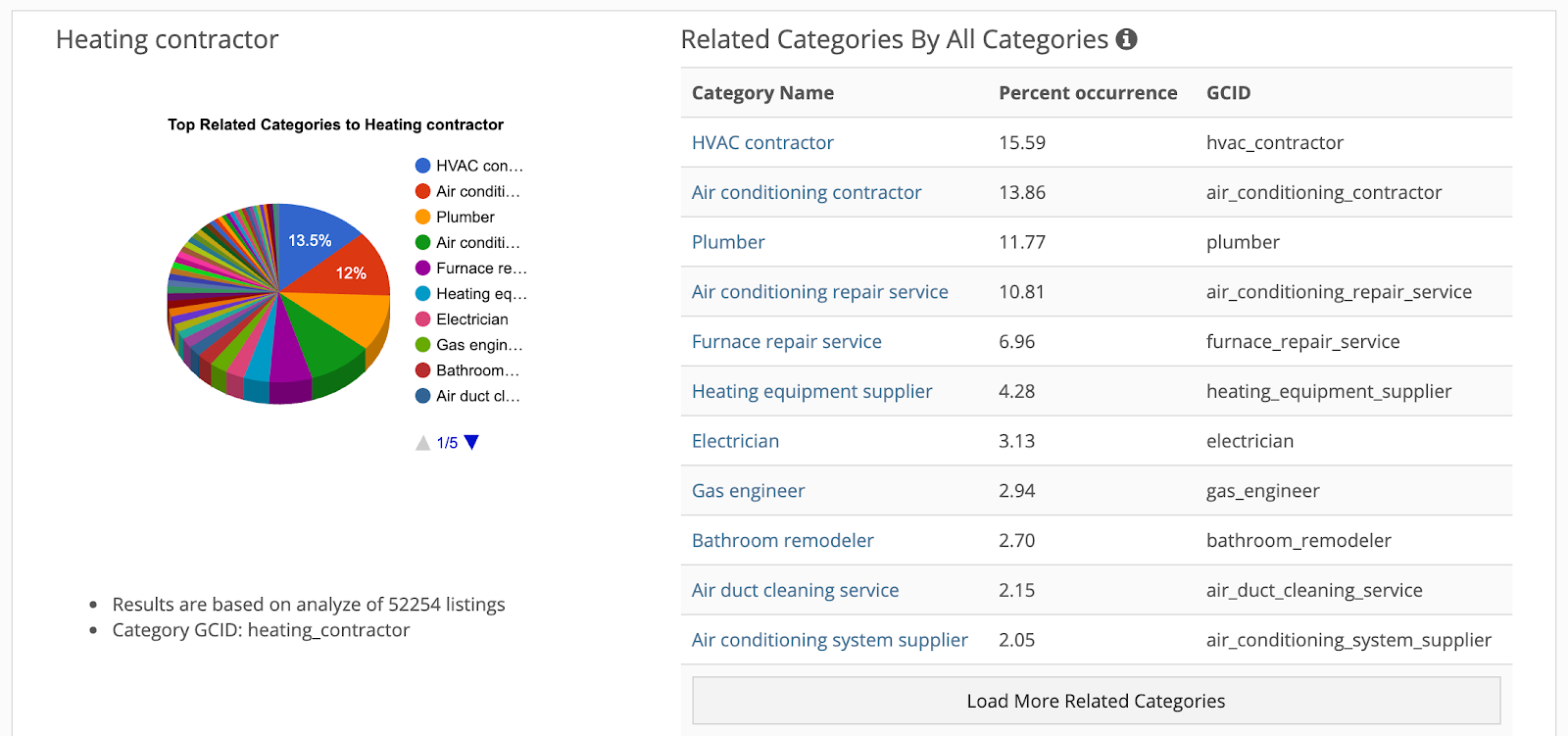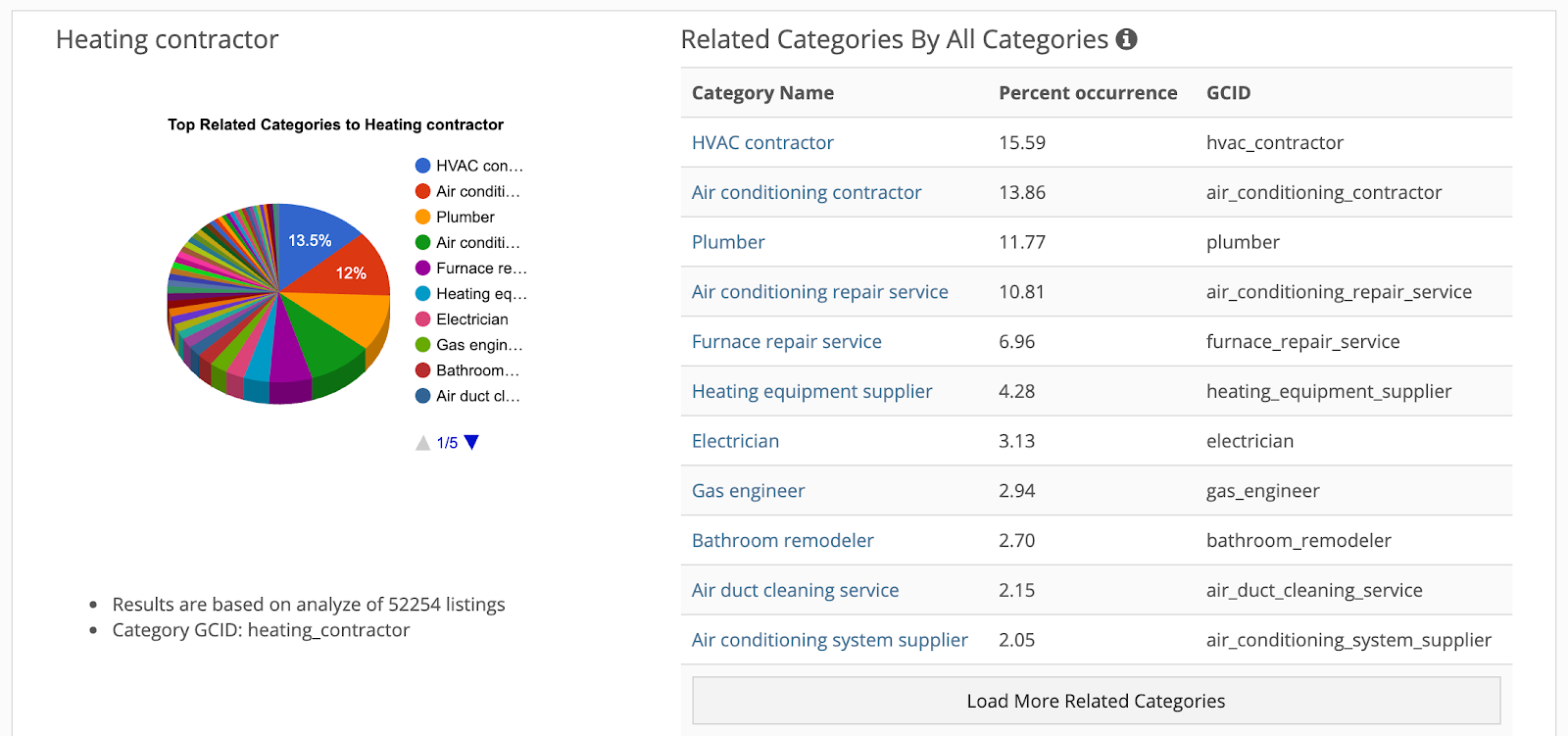 Products and Services: Although products and services don't have an impact on rankings (yet), they are helpful to searchers and can help aid in conversions. 
After all, that's our job, isn't it?
If you're a service-based business, do add your services. When adding services, add as much relevant information as possible. Don't keyword stuff the Service description!
If you're adding Products, you have a slight advantage over Services. You can add photos of the Product and a link to the product page. 
Hours of operation: Simple enough, add your hours of operation. Don't lie about your hours of operation; it can lead to a suspension of your listing.
Phone number: Add your phone number. It's ok to use a call tracking number as your primary phone number. Just make sure you add your real phone number as an additional phone number. 
Ideally, your real phone number and call tracking number should be in your local area code.
Website: More often than not, you're going to add your homepage in this field. 
If you're a multi-location business, you'll link to the location page.
There is some nuance here that should be brought up. When you edit/add/update the website field, it automatically triggers a crawl. 
The title tag and content on the page you're linking to should be related to at least your primary category.
If your primary category is Heating contractor, but you're linking to a page that doesn't talk about or mention this service, what do you think will happen?
When adding your website link, do make sure to add a UTM tracking code so you can see traffic within Google Analytics.
This is the template we use:
?utm_source=google&utm_medium=organic&utm_campaign=maps
Appointment links: If you use a third party for your appointments, add that link. If your appointment link is your contact page, add that.
Again, use a UTM tracking code.
This is the template we use:
?utm_source=google&utm_medium=organic&utm_campaign=maps&utm_content=appointment
Attributes: Select attributes that are relevant to your company. Don't add attributes that aren't true.
Description: This will not help your rankings at all, but do add a description. Don't keyword stuff the description field.
Opening date: Add the date the business opened. 
Photos and Videos: We humans are visual creatures. Add photos and videos to your listing that best represent your business. 
Google My Business Posts: Although they don't help rankings (yet or that we definitely know of), why not post a few times a week? 
Use visuals and a call to action when talking about a product or service. 
I've covered Google My Business listing completion and how it can help Relevance within Google Maps. Now, I'll dive into prominence.
Influencing Prominence for Your Google My Business Listing
This is where a lot of traditional SEO strategies are going to come into play.
The Google My Business Help article specifically mentions:
"Prominence is also based on information that Google has about a business, from across the web, like links, articles, and directories. Google review count and review score factor into local search ranking. More reviews and positive ratings can improve your business's local ranking. Your position in web results is also a factor, so search engine optimization (SEO) best practices apply."
Let's start with Reviews.
Reviews absolutely influence your local business SEO ranking. It's clear as day as to why but Google specifically mentions it.
It's not just the quantity of positive reviews you have, but the content within them also plays a role.
Google users can simply add a 5.0 rating to your business without any context. It's nice to have, but I would rather have 10 positive reviews with context than 50 positive ratings with no context.
If the review contains mentions of specific products or services within the review, not only does it help your Prominence, reviews can show within the map pack.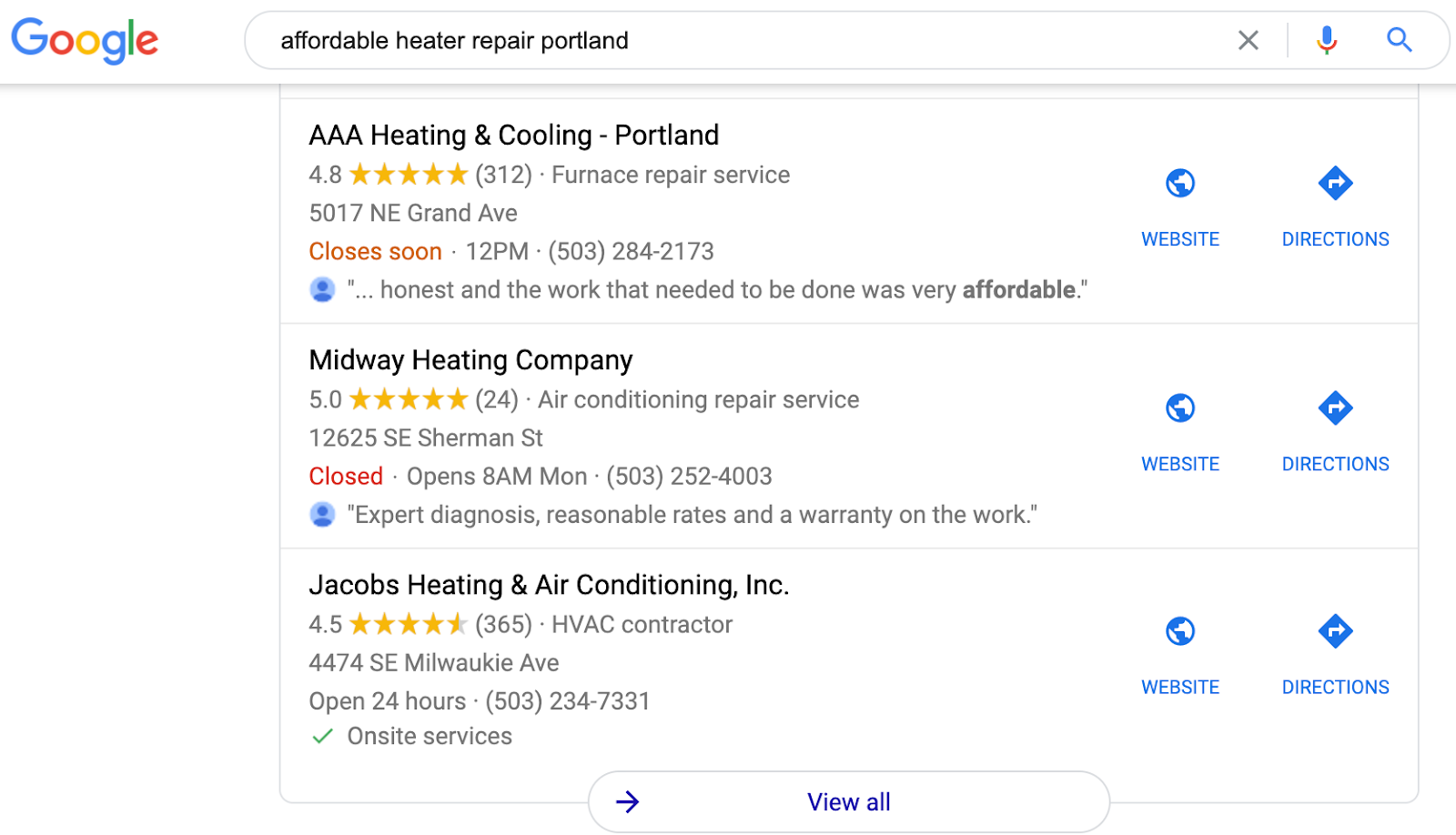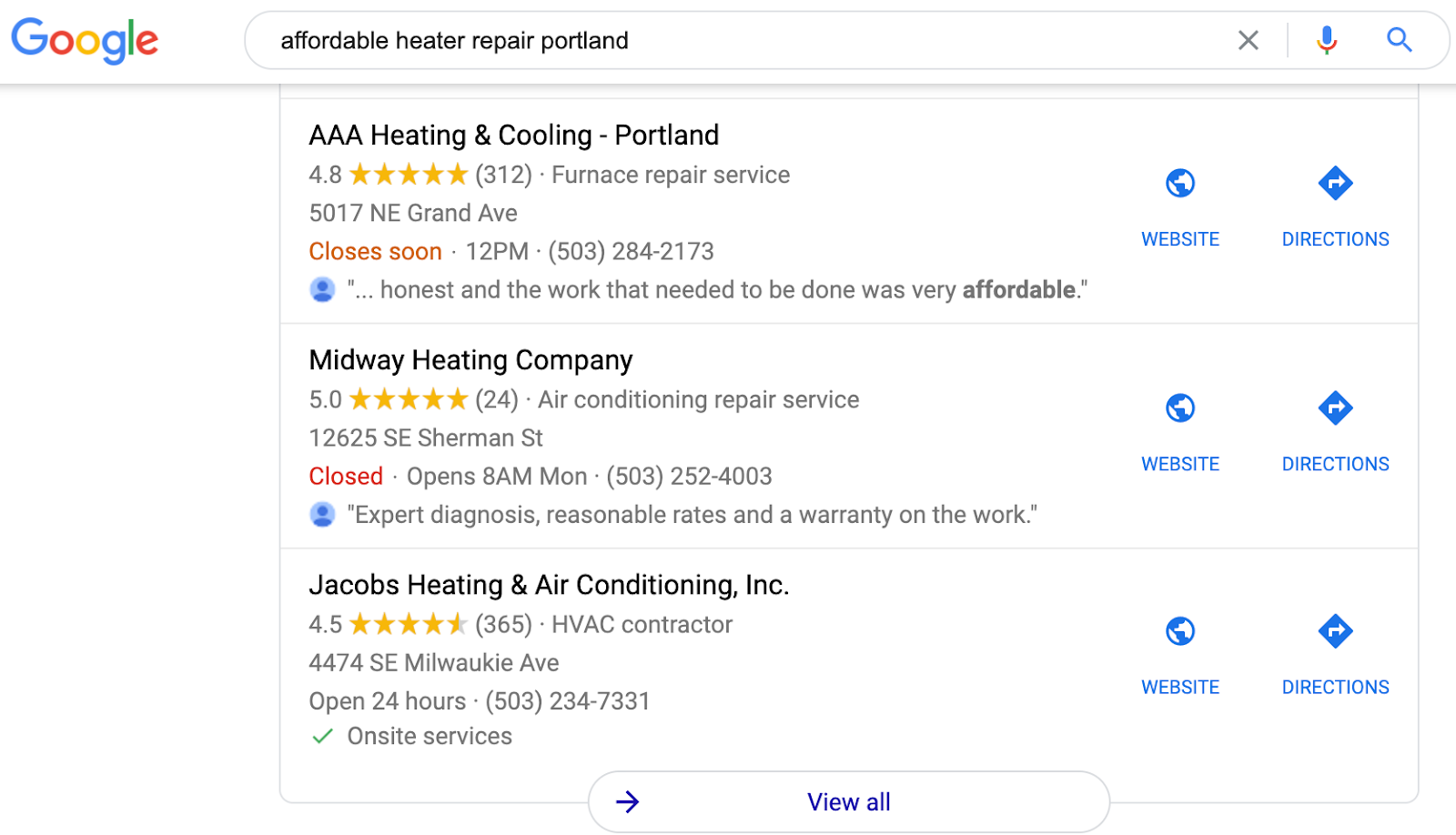 Even though the first result uses a modifier on their business name, a snippet from one review is shown within their result, and the keyword affordable is bolded. 
The second result includes a review snippet, too, likely because reasonable rates are related to my search for affordable heater repair.
You can have the best content, on-site SEO, and links, but if your review portfolio is negative or non-existent, your rankings will suffer.
How do you get people to add keywords to their reviews? When the ask comes, you can include starter questions to help stoke your customer. An example using the image above would be (sent via email);
"Dear Ms. Customer,
Thank you very much for using ABC Heating & Cooling of Portland for your heater repair needs.
We take great pride in providing an affordable service and rely on our customers' feedback to improve our services.
We would greatly appreciate it if you could write a review of your experience with our company.
If you need some help with coming up with what to write, here are a few starter questions to help:
Why did you call ABC Heating & Cooling of Portland?

Were we able to provide the service you requested in a timely fashion?

Would you recommend us to your friends and family?
The link below will take you to our Google listing to provide feedback.
[Link]
Thank you again, Ms. Customer, for choosing ABC Heating & Cooling of Portland. If you need anything else from us, please don't hesitate to reach out.
Signature"
The purpose of the starter questions helps Ms. Customer to remember why she called, comment on the service, and provide the recommendation.
Links, Articles, and Directories
Citations have a long history as an important aspect of local SEO, but their impact on rankings has dwindled over the years.
I'm not saying that you should NOT build or do any citation building. 
I am saying that if your "link building strategy" is solely around building hundreds of citations, you're going to have a hard time ranking.
Citations can help build up Prominence, but how much of an impact could you get? A little. It's not a silver bullet. Citations can be really beneficial for an overall strategy if you're utilizing them for barnacle SEO.
Let's move on from citations to explore the topic of local link building.
Links are a big local ranking signal within the local pack and local organic results, but not all links are created equal.
Link building for local search is a complex topic, and it would be difficult to cover everything within this guide.
A high-level view for local link building: Links for local businesses can be classified as Topical, Local, or a Citation.
In my opinion, I think local links have the potential to carry more weight than most other types of links. 
Check out my post titled Why Local Links May Reign Supreme for a detailed overview!
Local Organic Success Factors
Most factors we're discussing for localized organic rankings will help you in the map pack results, too. There might be some carryover from what we've already discussed.
Technical, On-Page SEO, Content, and Site-Speed
Google uses thousands of different signals within their algorithms to determine local rankings.
Traditional SEO tactics like technical and on-page SEO are going to be taken into account. Again, these are large topics that deserve guides in their own right. 
Check out these guides on on-page SEO and PageSpeed insights if you want to explore these topics deeper.
"Just write great content" is often echoed throughout the industry, and content plays a vital role, but it's how you approach content in the first place.
Again, making sure you have performed great local keyword research will aid you in the content you're writing.
When you approach content writing, make sure what you're planning on writing matches Google's perceived intent of the main topic of the page. 
Do a simple Google search for the primary topic and read through the content that's ranked highly.
This analysis will help you shape a great outline for your content.
Site-speed has always been important for user experience and accessibility to pages, but it will be even more so by the end of May 2021. 
Having a fast website is also great for users. 
Slow websites often plague small-to-medium-sized businesses. Bloated theme templates, website builders, and gated CMS' are affordable but tend to slow websites down.
Simple tips to speed up your website:
Use lossless image compression on all photos. If you're running WordPress, I like the TinyPNG plugin.

When uploading photos, make sure you upload the right size before uploading.

If you're using cheap/shared hosting, consider upgrading hosting to a better provider. 

Caching and utilizing a CDN can have a nice impact on your site-speed. If your site is running on WordPress, Nitropack is great.

For WordPress websites, don't rely too much on plugins. Plugins can have detrimental effects on site-speed. Consider working with a developer to implement what you want instead of relying on another plugin for one design element on a page.
Structured Data
Using structured data can have a positive impact on your local search appearance. The rich results it can bring to your search result can help increase your CTR. Here are a couple of examples of how it can enrich your appearance on the SERPs: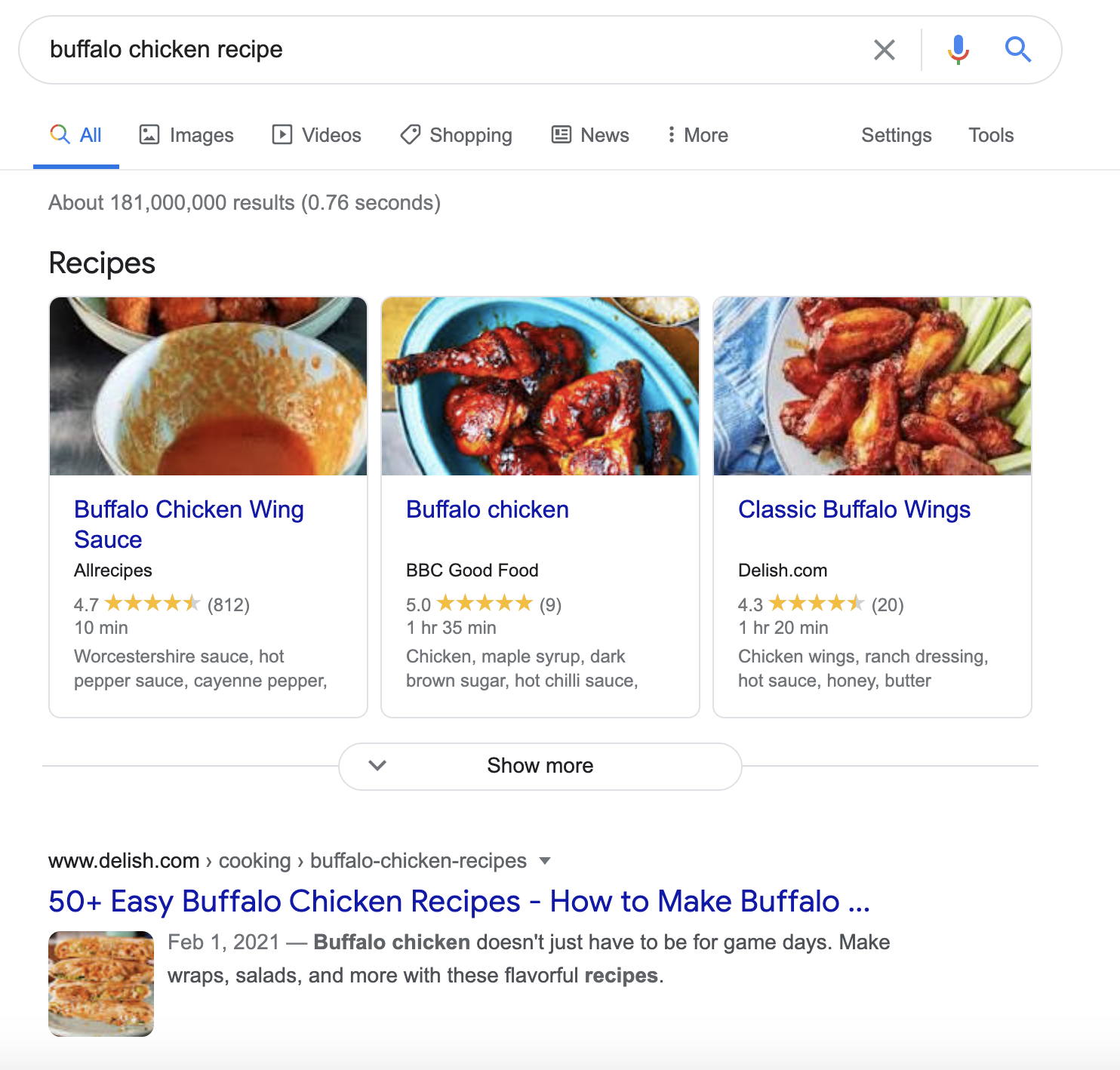 Recipe markup on the SERPs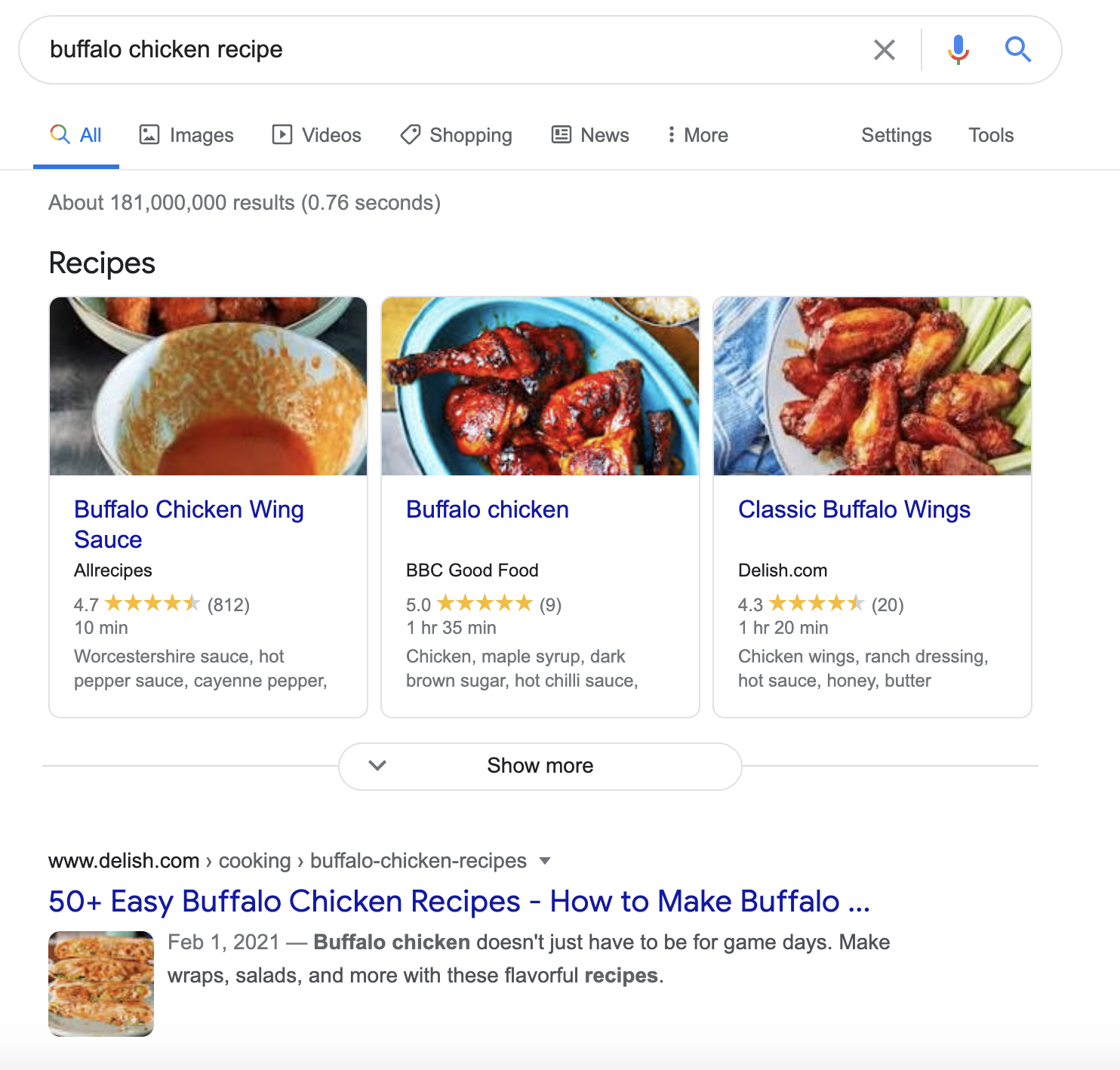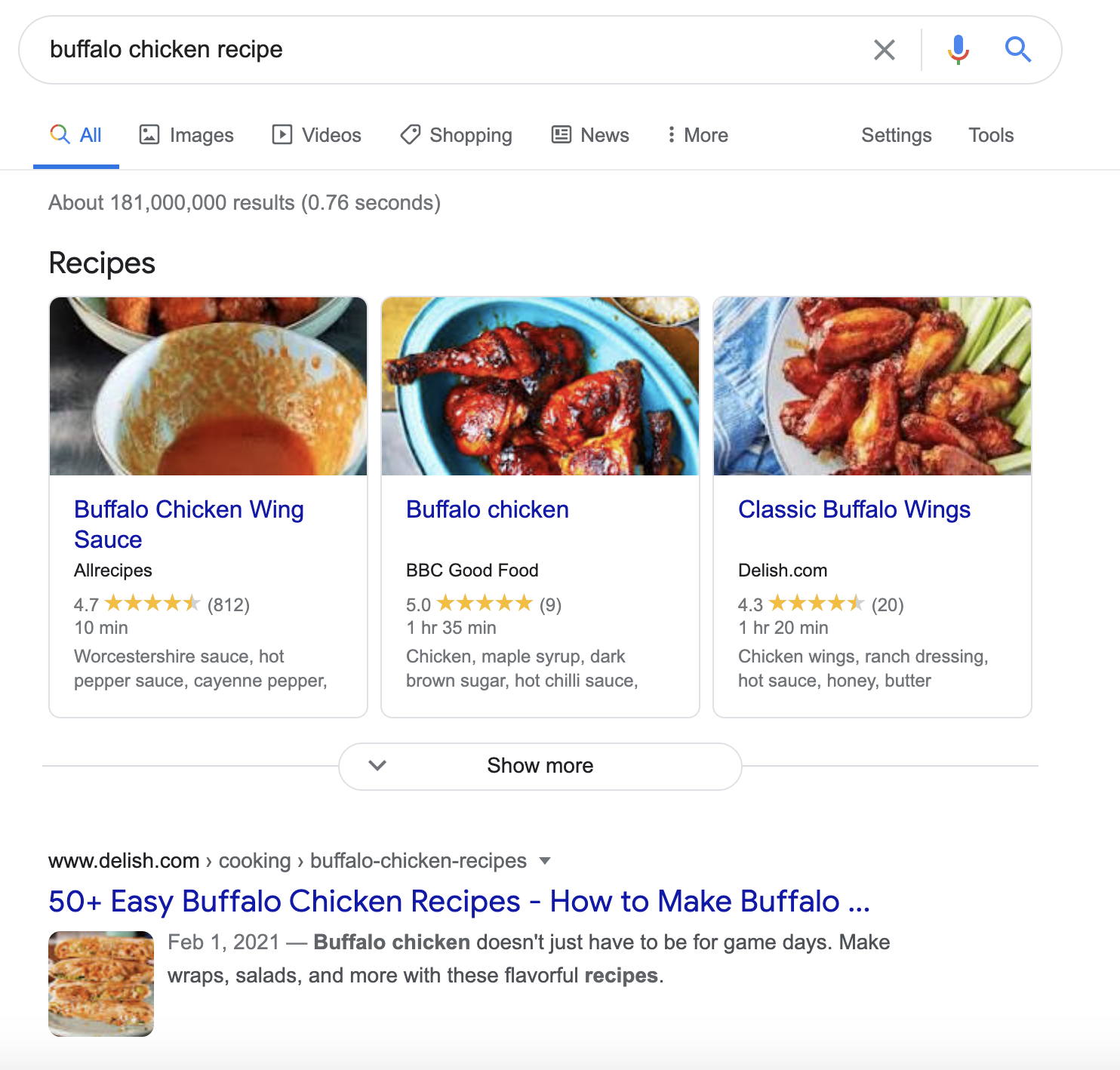 Product schema on the SERPs

Links
Why yes, we're going to talk about links again. Inbound links are a large ranking factor, but again, not all links are created equal. I think it's imperative to benchmark your links against your local competitors.
Grab a copy of this sheet: bit.ly/link-benchmarking. The second sheet has an example. 
Using Semrush's Backlink Analytics Tool, export your referring domains and your top 5 competitors' referring domains.
In the appropriate column, add the referring domains, then get classifying links.
Once you've finished, you'll see how your website compares against the competition.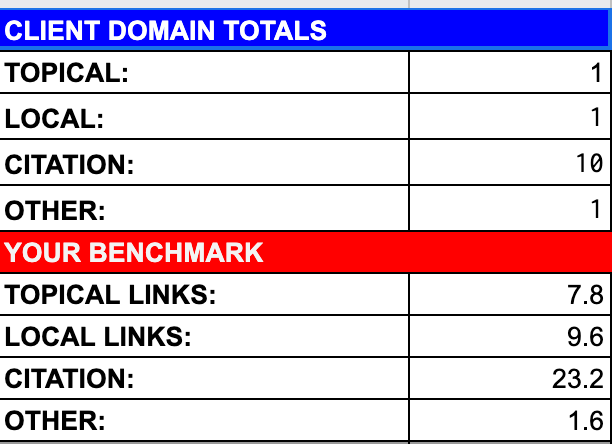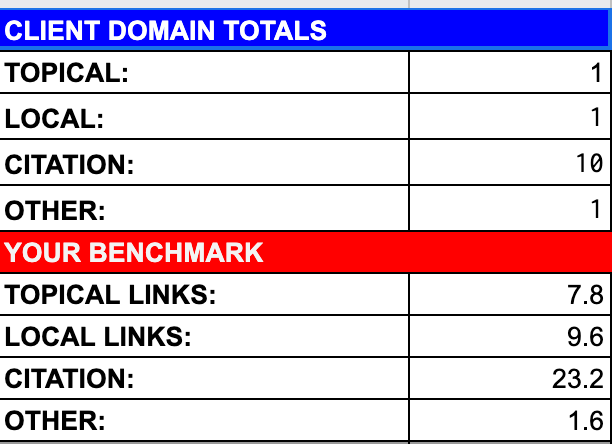 If the example above was our client, we could see that the client is lacking everywhere across the board. Internal links can fall within on-site SEO, but they're critical, too.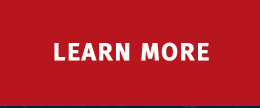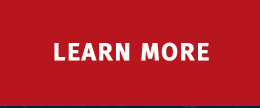 If you go to your website and look at the internal links and Learn More is used, you need to change this.
Learn more provides absolutely no hint as to what you're linking to. 
The image above is from a website (on page 2 for their primary keyword). Do you have any idea of what kind of website or the linked-to page is about?
Nope.
A bot crawling this page (it's a personal injury attorney) will get to this link, and the anchor is 'Learn More.' The bot has no context on what the page is about.
Internal anchors should be more descriptive!
Personalization/Behavioral Signals
Google has a lot of information on users. They are using this information to help shape the SERP for each user doing searches. 
How can you influence personalization and behavioral signals? Focus on building a better local brand.
I believe Google wants to rank what's popular in the offline world on the online world. 
Not just landmarks and points of interest like mentioned within the GMB Help article. This applies to local brands, too.
The more a local business gets involved in the local community and builds up their brand (local entity), the more likely they tend to rank more prominently for their desired keywords.
I also believe that Featured Snippets will become more localized as websites add more FS-worthy content to their sites.
If you're publishing content at the top and middle of the funnel and local users engage with that content before they need your product or service, you're likely going to benefit from personalization if/when that customer needs your product service.
"Tactics" That Won't Help You Rank
Keyword stuffing review responses
Yes, the content in reviews will help Google My Business rankings, but only from the REVIEWER! 
Responding to reviews is recommended by Google My Business and shows users that you care about your business. Respond to both positive and negative reviews but don't worry about adding keywords to your reply
Keyword stuffing your Google My Business description
The description field in Google My Business does not influence rankings. I tested this on my own listing last year by plugging in instances of a keyword in the description, and after two months of tracking, nothing, absolutely nothing happened to rankings. 
The description you add to Google My Business should be useful to users.
The same advice applies to products and services on the listing. They don't influence rankings at all. They are great to add, but don't worry about stuffing keywords into all of them.
Building links to the Google My Business CID number
We did some testing on this in early 2020. We built PageRank passing links directly to the Google My Business CID number with keyword-rich anchor text. I'll let the image results show what happened this year. 
Don't waste your time building links to the Google My Business CID number/GMB listing.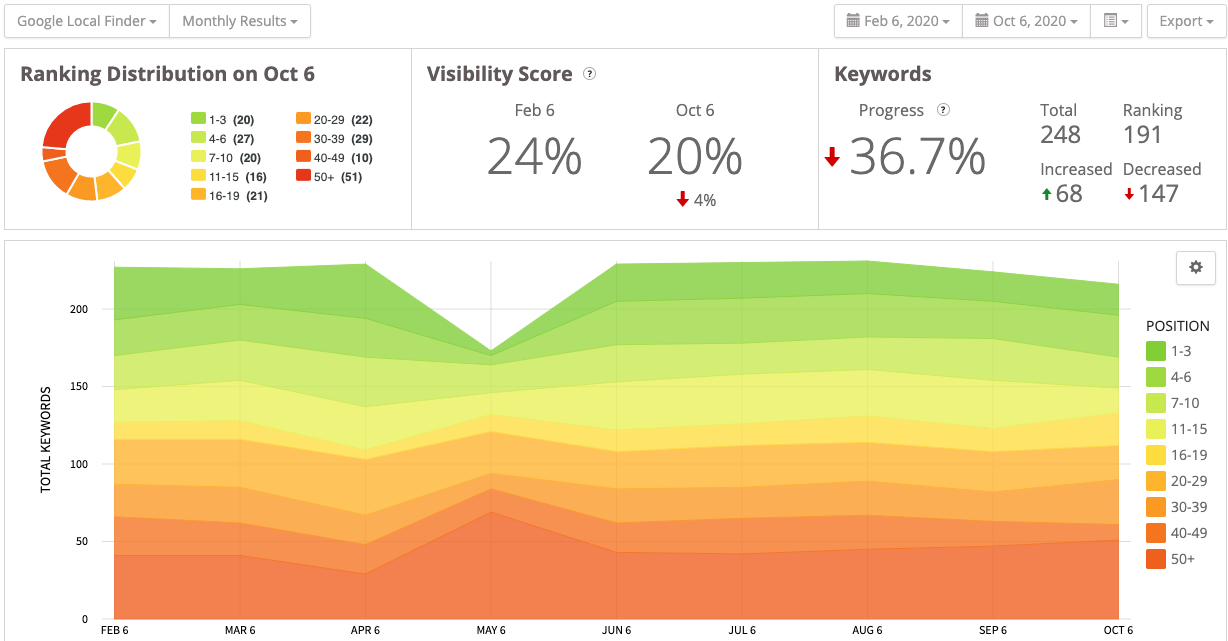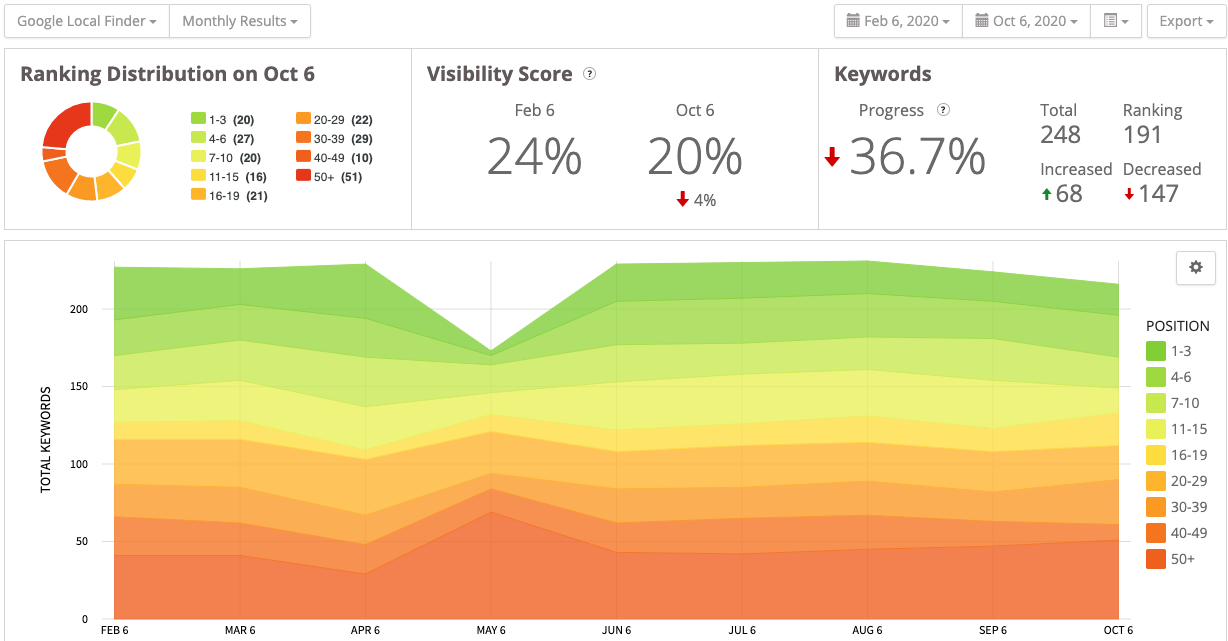 Custom Google Map with dozens of layers all with directions to your location
Interesting concept, but it doesn't do squat. I've yet to see someone show a test where this works. Google has a ton of information on users, and they likely rely on user data instead of your multi-layer custom Google Map to influence rankings.
Customizing EXIF data on images
Having great photos and videos overall are great for your Google My Business listing. Google My Business is not using EXIF data for rankings. Again, I've yet to see any test that proves otherwise.
Your biggest takeaways should be to provide the best experience for your customers while focusing on building a better, local brand. 
When it comes to improving local business SEO, it's key to follow the recommendations for most sites: looking at your on-site content, ensuring your site is technically clean and paying attention to your online reputation.