Getting your website's structure right is one of the most important technical SEO basics, yet it's often overlooked.
A website shouldn't be a random collection of pages and posts. It should be an organized collection of content that's easy for search engines and users to navigate and understand.
In this guide, you're going to learn how to build a site structure that works and helps your site achieve SEO success.
Specifically, we'll look at:
What Is Site Structure?
Your website's structure is the way that content (pages and posts) is grouped. This is sometimes referred to as your website's architecture and is all about how your content is linked together and presented to users and search engines. It's your website's framework. 
A good website structure makes it easy for users to navigate between pages and search engines to crawl your content and understand what your site is about.
Think about it as how pages on your website relate to one another, specifically how they branch off your homepage and are grouped within deeper directories.
And planning a site structure includes considering your:
URL structures
Navigation menus
Categorization
Breadcrumbs
Internal linking
The Importance of Your Site's Structure
Whether you have a small website or a large website, site structure is an important component for success as your site structure impacts both users, in terms of its accessibility and user-friendliness, and for search engines, in terms of crawlability and technical aspects.
So let's take a look at the reasons why you need to take the time to properly define this for these two key reasons…
Site Structure for Users
Your website's primary purpose is to put your products or services in front of your target audience, such as your next customer or client. That means that your users should be at the heart of everything you do.
And when we look at the reason why your site's structure is so important for your users, we can break it down into three key things:
Site Structure Is Important for UX
The structure you choose has a direct impact on your website's usability, and this means making it easier for users to find the products, services, or information that they're looking for.
The easier it is for someone to find what they landed on your site for, the higher the chance that they'll become a client or customer. 
A Good Site Structure Makes It Easier to Navigate
When you carefully plan out your site's structure to help users find what they want as easily as possible, you're making it easier to navigate.
Since one of the key functions of content on a website is to help push prospects through your sales funnel, it makes sense that you'd want to make it as simple as possible for a user to flow through the sales funnel by improving your navigation.
A Good Site Structure Groups Content and Makes Pages Easy to Reach in As Few Clicks As Possible
No one wants to spend an age looking for the content that they're after. A good site structure makes it easier to find pages and posts in as few clicks as possible, keeping users engaged and stopping them from bouncing. 
Site Structure for Search Engines
While a good site structure is important for presenting a great user experience, it's also a key part of achieving SEO success.
Structure your site in the right way, and it's easier for the search engines to understand and rank your content higher on the SERPs.
The key reasons why site structure matters for search engines are:
Topically Grouped Content
Topical SEO is a big deal, and your site's structure is a key way to showcase how different pages and posts are connected.
Often referred to as topical relevance or topical authority, grouping together related content pieces helps to position you to search engines as experts in your field, showcasing that you cover a topic in great depth. 
This helps search engines understand what your website is about and give context to the keywords you should be ranking for. 
Highlight Your Most Important Content
The right site structure helps you highlight your most important pages (often called pillar pages or hub pages) and position them as the pages that should rank for competitive, high volume keywords (think generic terms).
A Good Structure Makes Your Site Easier to Crawl and Find New Pages Faster
A good site structure makes it easier for search engines to crawl your site and find new pages (and changes to existing pages) faster.
If Google can't crawl all of your website's pages, it's going to struggle to index them. However, you shouldn't face this issue with the right structure as all content should be linked to from at least one other page.
Your Site Structure Passes Link Authority
Backlinks are a key ranking factor. To maximize the benefits from your link building strategy, you need to make sure that you're properly distributing link authority throughout your site.
To earn high-quality backlinks, you want to have different pages answering different questions. This way, you have several pages across your domain that are beneficial to users. You're able to acquire more relevant, quality backlinks this way, too.
The right site structure helps you to do this effectively. 
Helps to Prevent Keyword Cannibalization
Keyword cannibalization can prevent your site from ranking as well as it could when two or more pages that have the same intent compete with one another. The right site structure can make it easier to stop this issue from occurring due to a clearly defined place on your site for a particular topic or piece of content. 
What Does a Good Site Structure Look Like?
We've already defined that a good site structure should:
Group topically related content together
Highlight your most important pages
Keep content simple and organized in a logical hierarchy
Before we dive into how to define your website structure, here's what a well-organized structure looks like: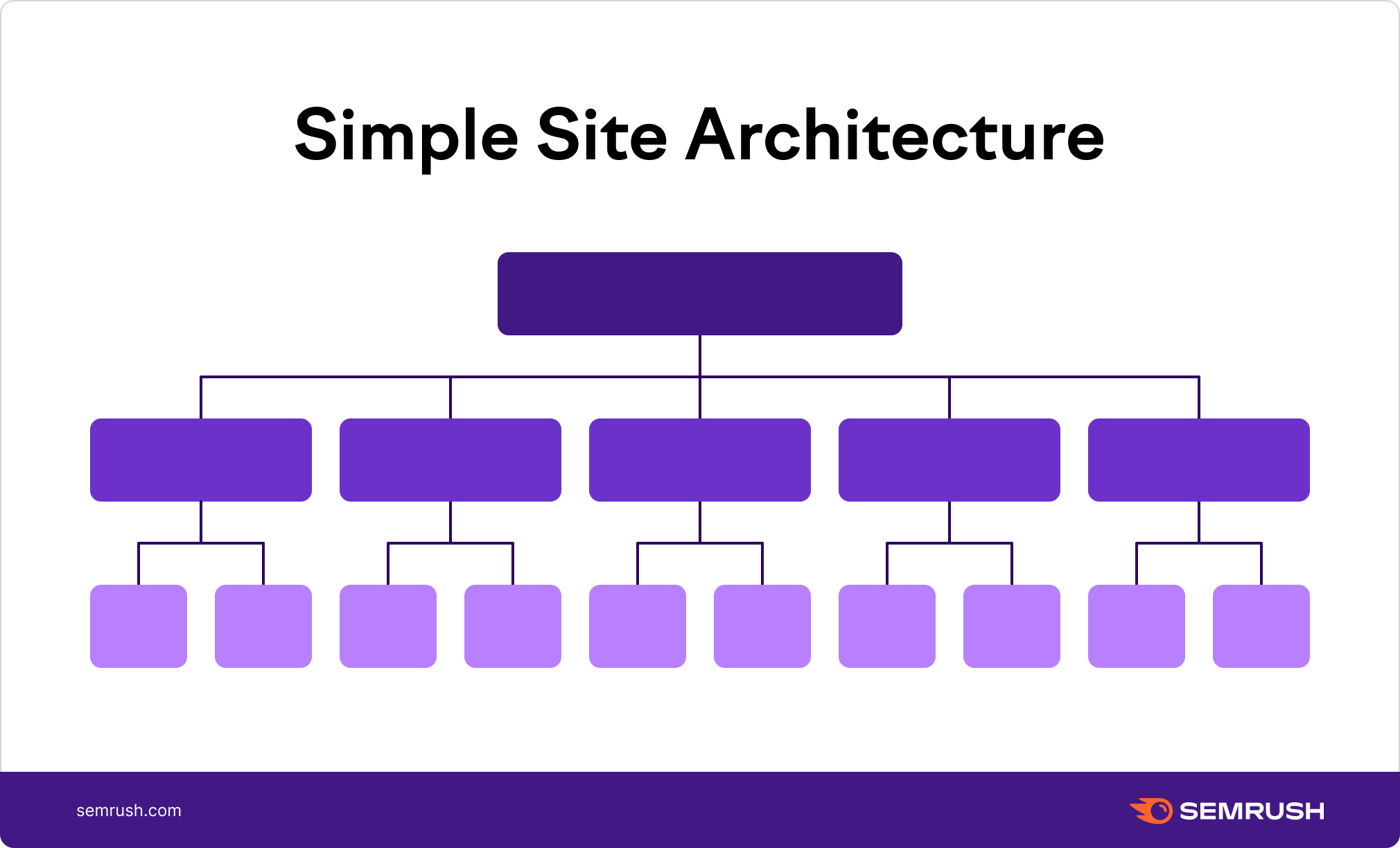 See how content is grouped around key pages that come off from the site's homepage? Content is placed in a logical hierarchy, and it's clear to see how this could easily be expanded as the site grows. 
This site architecture is based around what is known as topic clusters, and we'll give a quick breakdown of the strategy:
Topic clusters are a group of content that revolves around a central topic and use a pillar page to link to and from. In short, topic clusters are centered around a single topic and offer multiple internal linking opportunities to keep readers on your site. 
They're an effective approach to structuring your site, helping you group topically related content together and putting in place a solid internal linking structure. Here's an example topic cluster with a pillar page: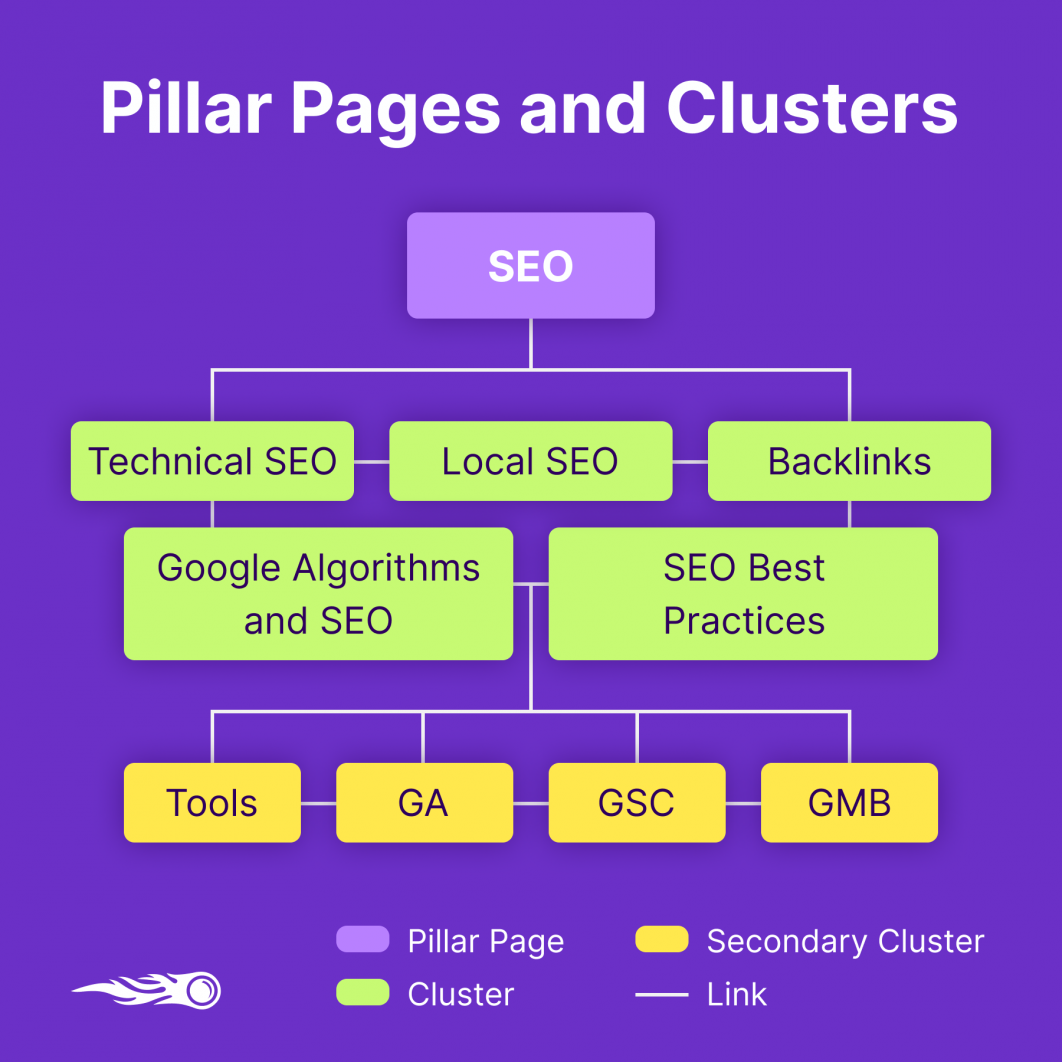 Using topic clusters helps you showcase topical authority, which is vital for earning top rankings on the SERPs. 
How to Define a Site Structure That Works
Ready to plan out a site structure that works great both for your users and search engines? Here's a step-by-step guide to defining your website structure:
Topic and Keyword Research
It all starts with topical keyword research.
After all, to plan a structure that works, you need to know the topics you'll target and the primary keywords within these topics that you're trying to rank for.
Use the Semrush Topic Research Tool to generate ideas around the key topics in your industry and get you thinking about the most effective way to group your content and keywords.

Enter a topic and hit 'get content ideas' to return a list of potential topics based on what you entered.
Start with those that align closely with your products and services.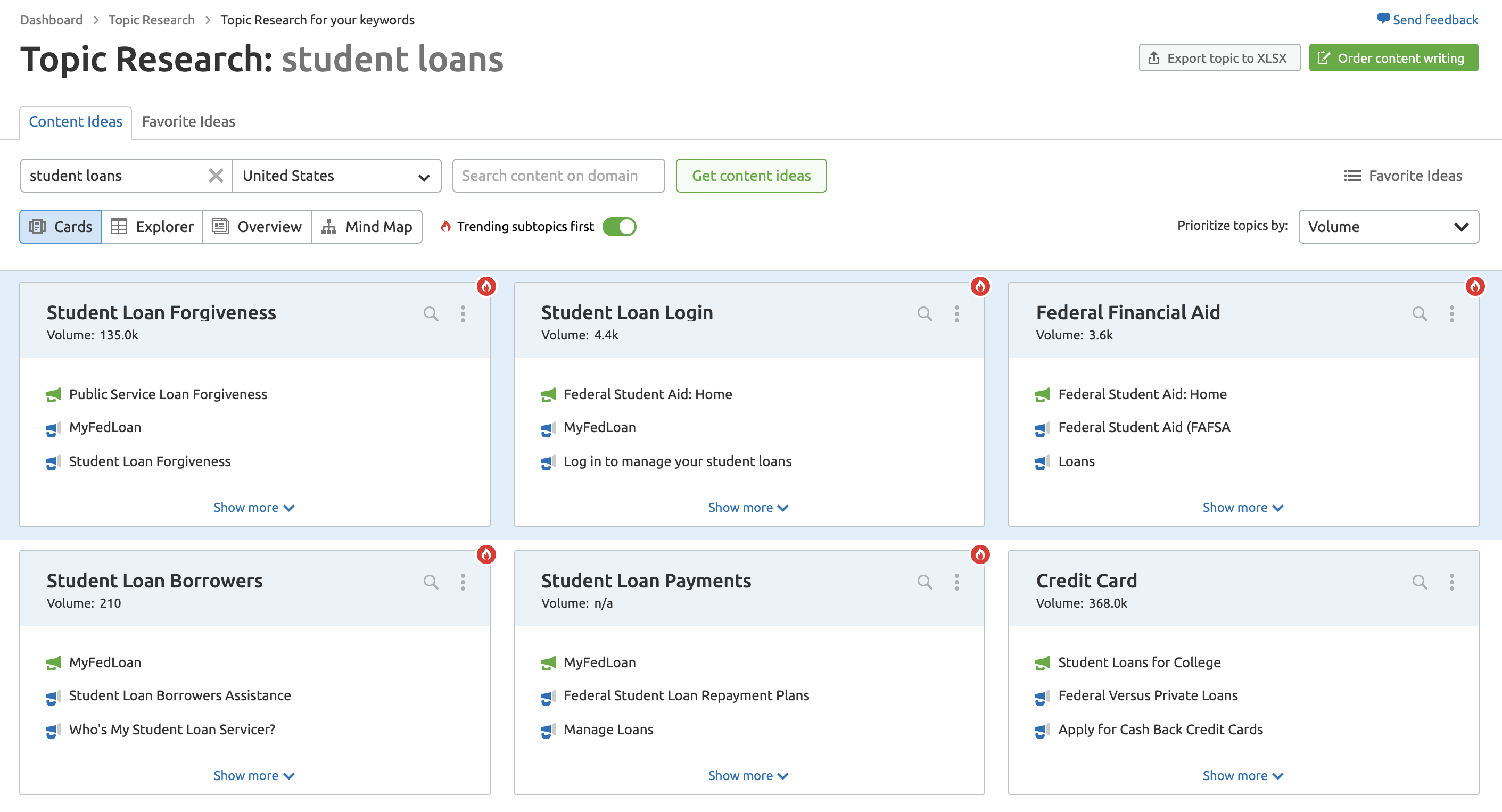 At this stage, these ideas are more to get you thinking about those that are referenced by others creating content in this space. They're not necessarily your final action plan.
Brainstorming can also help you develop ideas for the main topics your site should be covering.
Once you've got ideas around topics, it's time to move into more detailed keyword research to map out pages and posts to sit within the topic clusters you define.
You can use the Keyword Magic Tool to help you to find the keywords that your prospects are using to find businesses just like yours.
Take one of the ideas generated during topic research and do your research: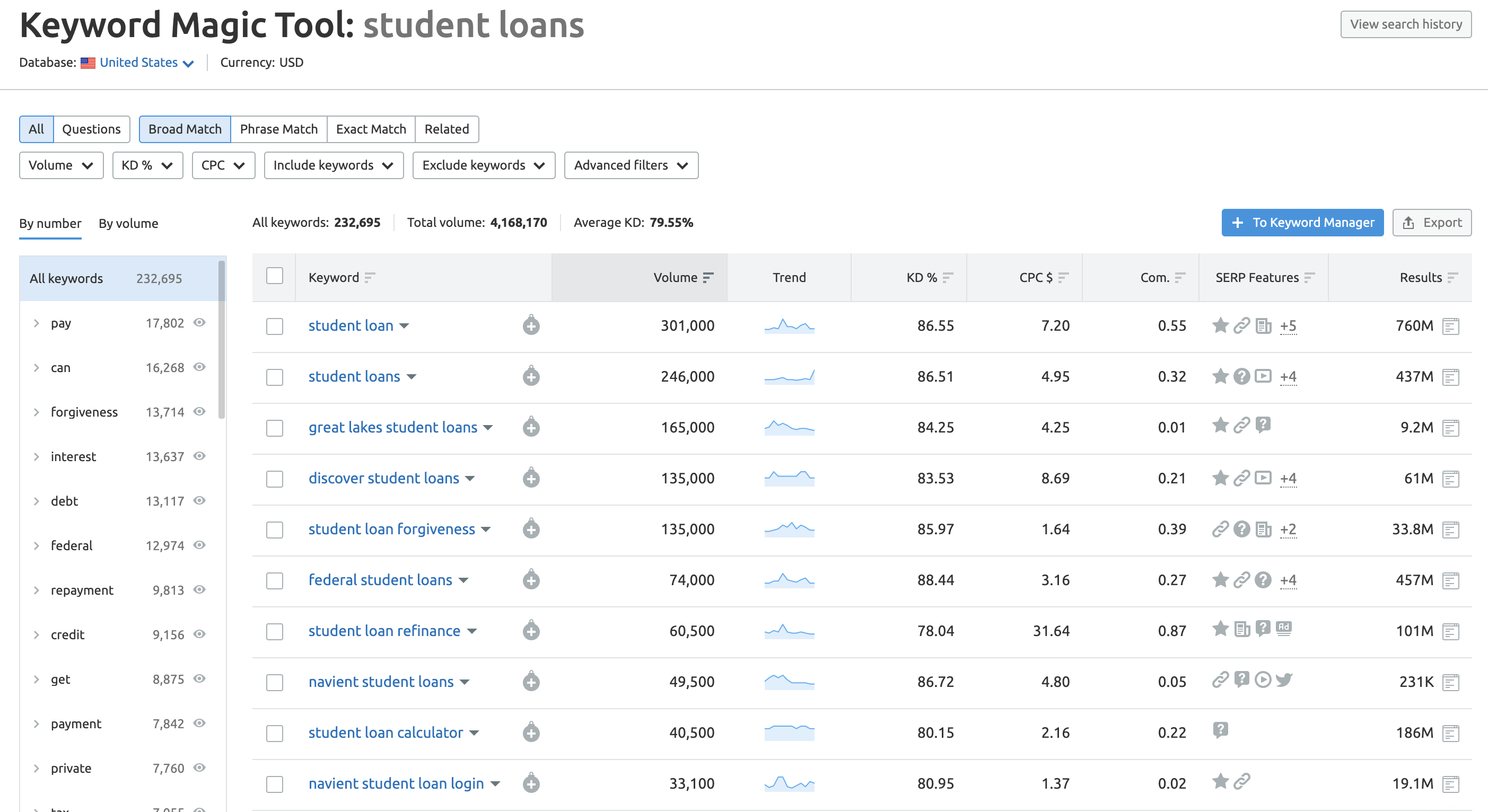 Not all of the keyword ideas that are returned will be relevant to your business, but start to build out a list and group related keywords that make sense to be covered together within a piece of content. 
You can also use the Keyword Gap Tool to see where opportunities exist between your site and your competitors or crossover topics and keywords between two or more competitors.

You'll be able to see shared keywords, unique opportunities, and more, helping to steer your keyword strategy and ensure you're covering all your bases (even if this means planning for future content).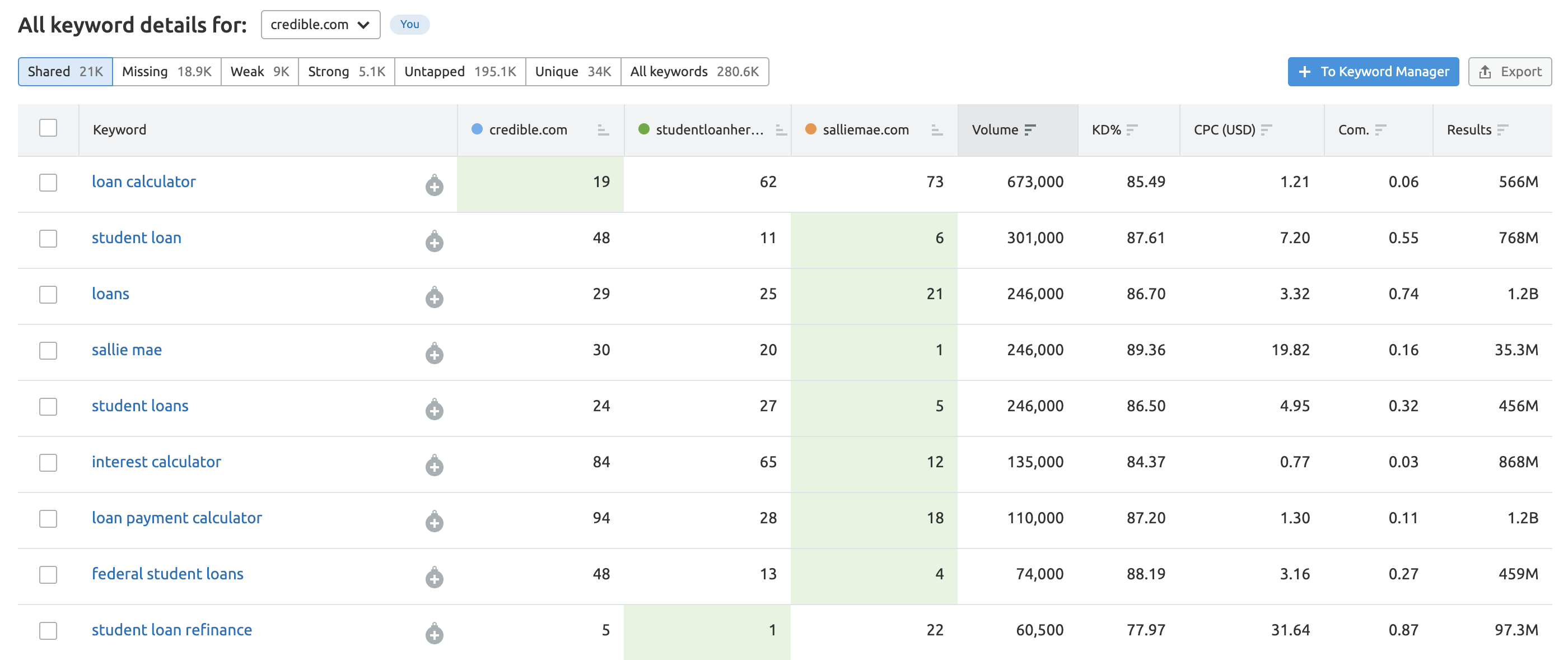 At this stage, you want to think about:
The primary topics that you'll cover (and use for pillar pages)
The sub-topics within these (usually based around long-tail keywords and questions)
Plan Your Site Structure and Hierarchy
Developing your site structure is the key to success. It makes sense to define your topic clusters, determine your pillar page for each cluster, and then expand to plan the supporting content.
Your pillars are the top-level content pages that cover the broader topic. When planning your pillar pages, you should consider how you can cover a wider topic at a broad level within the page. This leaves an opportunity to expand upon the specifics within the relevant cluster.
Think about these as more in-depth pages that answer specific questions about the broader topic. These pages should then link back to the main pillar page—this helps create a solid understanding of how your content is connected.
It helps to visually map out your site's structure at this stage to help you to see how topic clusters fit together and where specific pages and posts should go.
You can use a free platform like Gloomaps for this.

Once you've mapped out your site's structure, this can make a great reference point as you build out content and continue to grow.
Consider Your Site's URLs
In an ideal world, your site's structure would sit cluster content within the same subdirectory as that topic's pillar.
Let's say your pillar page is yourdomain.com/pillar/. That would mean all of your cluster content sits on URLs like yourdomain.com/pillar/cluster-page-1/.
This is known as URL silos and helps to keep topical relevance within a site's subdirectory, and wherever possible, it makes sense to structure your site in this way.
However, this isn't the only method. If you're unable to group all of your cluster content within the pillar page's subdirectory, that doesn't mean you can't use this method of site structuring. 
Siloing URLs helps to keep topical relevance within folders; however, if this cannot be achieved due to technical restrictions, you can use internal linking to showcase the topical connection between pages. 
We'll touch on internal linking shortly. 
Carefully Plan Your Site's Navigation Menus
While navigation menus primarily exist to help your users find the pages they're looking for; they're a great indication of the most important pages.
And you need to think carefully about the way you structure your navigation menus.
To give an example, take a look at the primary navigation of these two sites in the same sector:

 Compare this to:
Here's a great example of the importance of getting navigation right. The second image clearly helps users navigate the right products as easily as possible, whereas the first one goes no deeper than top-level generic categories.
Think carefully about how you structure your navigation menus and use these as an opportunity to place your main pages in front of your users. 
Consider the Depth of Your Site's Key Pages
A great site structure should make it easy for both search engines and users to find your site's content, and that means that pages shouldn't be hidden deep within your site.
It's typically assumed that all pages should be accessible within three clicks from your site's homepage, and structuring in the right way can make this possible.
Using breadcrumbs and internal linking can help ensure pages aren't buried deep in your site, but visualizing your structure can help when planning to keep content within these three levels.
This ensures that your site doesn't have orphan pages, which are when a page is not linked to from anywhere within your site's structure. Essentially, it cannot be accessed from anywhere within a site and only from a direct link. 
You can use the SEMrush Site Audit Tool to discover pages on an existing site that need more than 3 clicks to be reached or are orphaned.
Find and Fix Keyword Cannibalization Issues
Reworking an existing site's structure is the perfect opportunity to find and fix keyword cannibalization issues. Our guide on this defines keyword cannibalization as:
All too often, keyword cannibalization is explained as being something that happens when you have more than one page on your site that target the same keyword — that one page cannibalizes the other's ability to rank and neither perform as well as they should, do.
Keyword cannibalization is all about intent and when multiple pages exist that target the same intent, you have an issue.
You can use the SEMrush Position Tracking Tool's cannibalization health tool to find issues that exist and then learn how to fix them in this guide.
When it comes to planning your structure on a new site, understanding the concept of one page to target a specific intent of a keyword can help you to prevent issues from happening.
Use Internal Linking Strategically
Internal linking is key to planning an effective site structure, and if you're not familiar with these, they are links that point from one page to another on your site. 
And one of the key benefits of internal linking is that they help search engines to understand your site's structure (and the topical connection between pages), pass link authority, and help users to navigate between pages,
You can internally link using several different strategies, including:
Breadcrumbs
Contextual internal links
Navigation links
And let's not forget that internal links form a key part of topic clustering. You can audit your site's existing internal linking structure using the Site Audit Tool: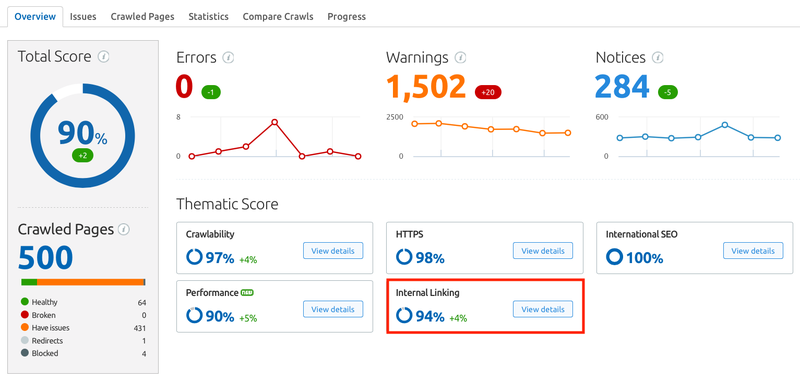 Create an HTML Sitemap
As a final step to putting together a solid site structure, consider generating an HTML sitemap.
These are sitemaps visible to users while also serving a list of URL links that can be crawled by search engines, further reducing the risk of orphan pages and allowing new pages to be discovered quickly.
Don't forget that HTML sitemaps also distribute PageRank (link authority) and are recommended to be in place. 
---
Don't underestimate the importance of getting your site's structure right and the impact it can have on your SEO performance.
Take the time to plan a structure that works for both users and search engines and group your pages by topics, effectively distribute link authority and help get people to the pages they want to browse as quickly as possible.