In this guide, you will find a collection of step-by-step instructions from agencies who have boosted their business growth with Semrush. Learn more about their experiences and the tremendous results they have achieved by using the tools.
Semrush helps agencies at every stage of their workflow.
Summary
1. Generating and qualifying leads
1. Generating and Qualifying Leads
How we find and qualify new clients in our niche
Vice President of Search, SearchLab, Semrush Academy Professor, author of Semrush For Agencies course
SearchLab is an agency that offers local SEO and PPC services to small and medium sized businesses. Here, Greg Gifford shares actionable tips on how to find and qualify new clients in a specific niche. 
1. Find potential prospects in your target city
Let's say you work with car dealers, and you're looking for new prospects to pitch. I like to start off using Domain Analytics – you can get a solid overview of prospects on both the organic and paid search side of things. All you need to start with is a domain to analyze. Do a quick Google search and find a business in your target city – we're looking for dealerships in the Dallas area and find Huffines Chrysler Dodge Jeep Ram.
Click Organic Research. Since we're looking in Dallas, we want to be sure we have the right country database selected. Then, we drop in the URL, click search, and we get ridiculous amounts of information about that business, as well as a few handy lists of local competitors who could also be prospects.
2. Pay attention if they have gaps in their organic search strategy
Scroll down past the top level info for all the juicy goodies. You will get a list of the top organic keywords, so you can see if there are any obvious gaps for things you know they should be ranking for. Right next to that, you can see a graph of their organic ranking distribution, so you can get a high level idea of their visibility in searches.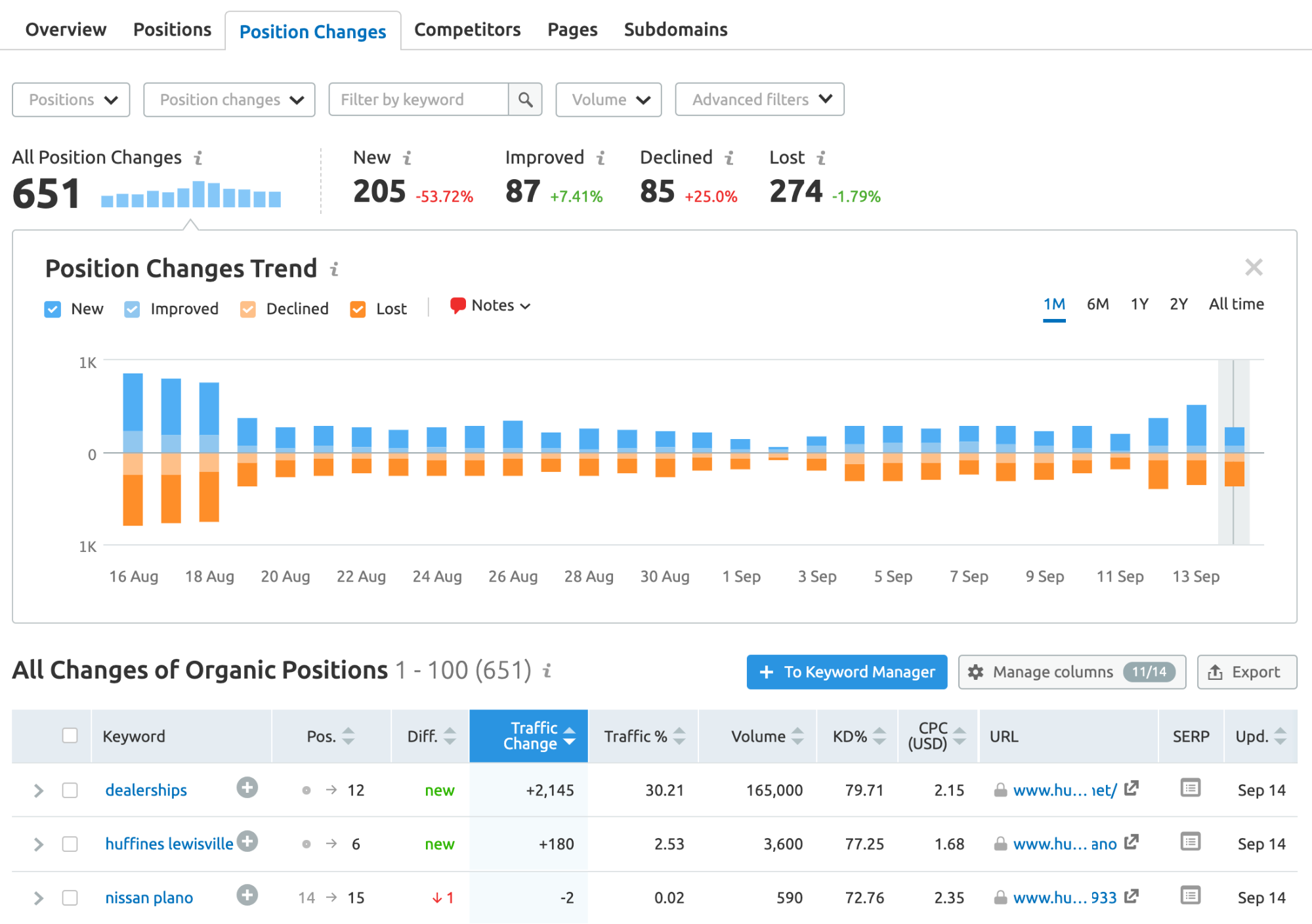 Then, the really awesome bit – a list of their main organic competitors, with data on how many keywords they compete on and how many total keywords each competitor ranks for. Towards the right, Semrush graphs out competitive positioning based on how much potential traffic each site receives and how many keywords they're visible for.
When you see information about organic traffic or paid search traffic, bear in mind that they're not actual traffic numbers. Rather, they're estimated based on search visibility and clickstream estimates, and meant for comparison purposes only.
Check out the branded vs non branded keyword graph, too. When you find prospects that are heavier on the branded side, that means they're not getting as much traffic for non-branded terms, and that's an easy target for a good SEO pitch.
3. Discover the sweet spot
Now here's the best part. Check out the list of organic competitors – it's the same list that shows on the overview page. You can click to view the full list – in this case, over 2,000 competitors- and export it, or you can select any one of the competitors and Semrush will conduct the same organic research on that individual site.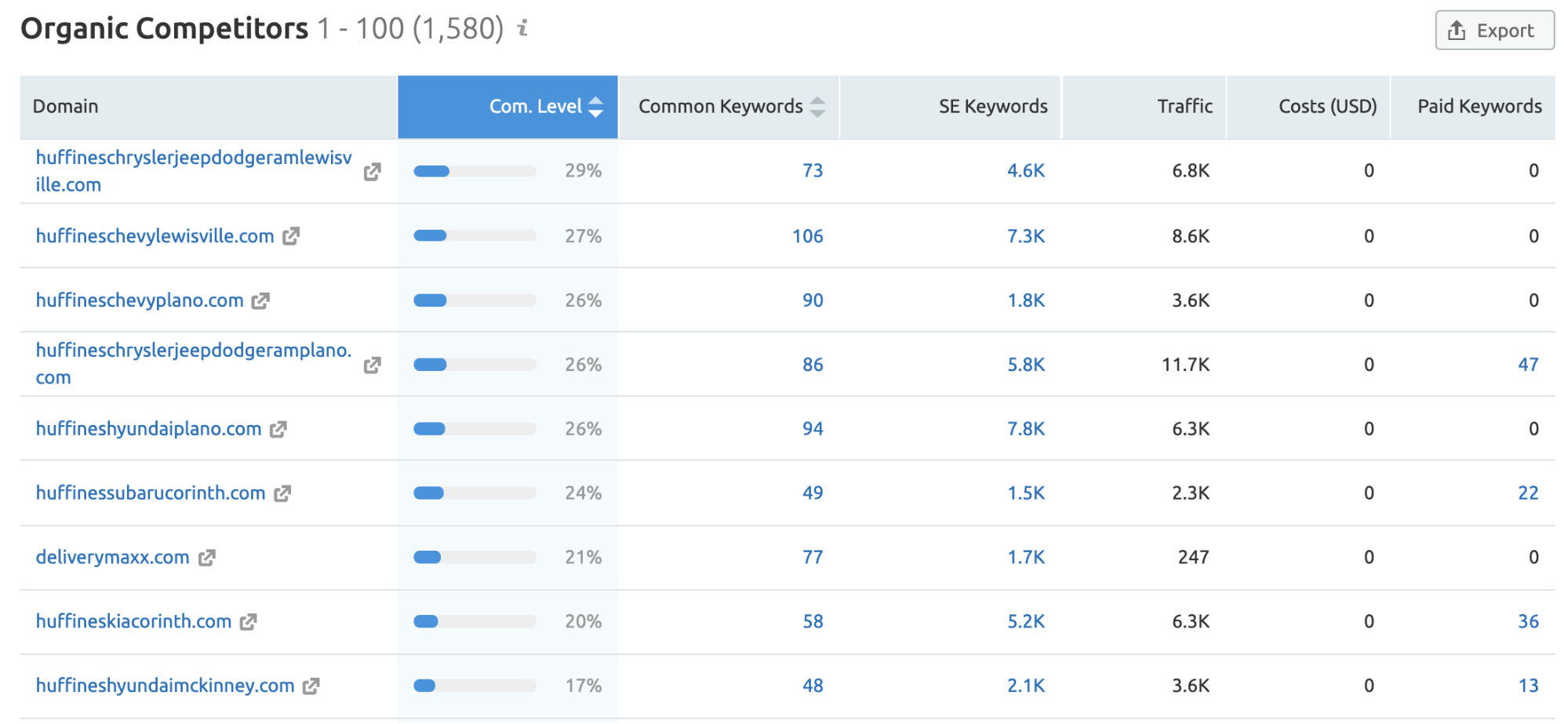 If you spend even just a small amount of time here, you can find that sweet spot between the prospects who aren't quite visible (or aren't visible at all), but who are also obviously willing to spend money on digital marketing.
I also like to check out the advertising research area. If prospects are paying for Google Ads, that's typically a sign that they have a higher level of understanding about digital marketing, and they're more likely to understand that SEO is an important investment.
Finally, it's a good idea to look at the businesses that are in the top positions and make a comparison to how they're showing up organically. If there's a gap, that means they're spending a lot on ads to make up for less organic visibility, which is a great prospect. You also want to look for prospects with higher estimated spending. If they're spending more, they're getting results and will typically be more open to an SEO pitch.
Finding gaps in your prospect's strategies with Traffic Analytics
Vice President of Search, SearchLab, Semrush Academy Professor, author of Semrush For Agencies course
In this chapter, Greg Gifford explains in detail how to find gaps in your prospect's search strategies using Traffic Analytics.
1. Check the traffic sources of your prospects 
As well as Organic Research, you should also use the Traffic Analytics report. Again, traffic numbers here are based on estimates; they're simply meant for comparison. At the top of the report, check the estimated accuracy of the report, which will be one, two, or three bars. One bar is the lowest level of accuracy and three bars is the highest.
Check out the Traffic Sources graph for a breakdown of estimated referral sources. You can get a ton of insight about a potential lead if you have an idea of how much search traffic they're getting compared to paid, social, and direct traffic.

2. Trace your prospect's traffic journey
The Traffic Journey report is helpful, too. It shows the top traffic sources for the prospect's site as well as the top exit destination sites – the sites that users head to when they leave the site you're analyzing.
The Top Pages report shows entrance sources for each of the top pages on the site along with the keywords each page is visible for in searches.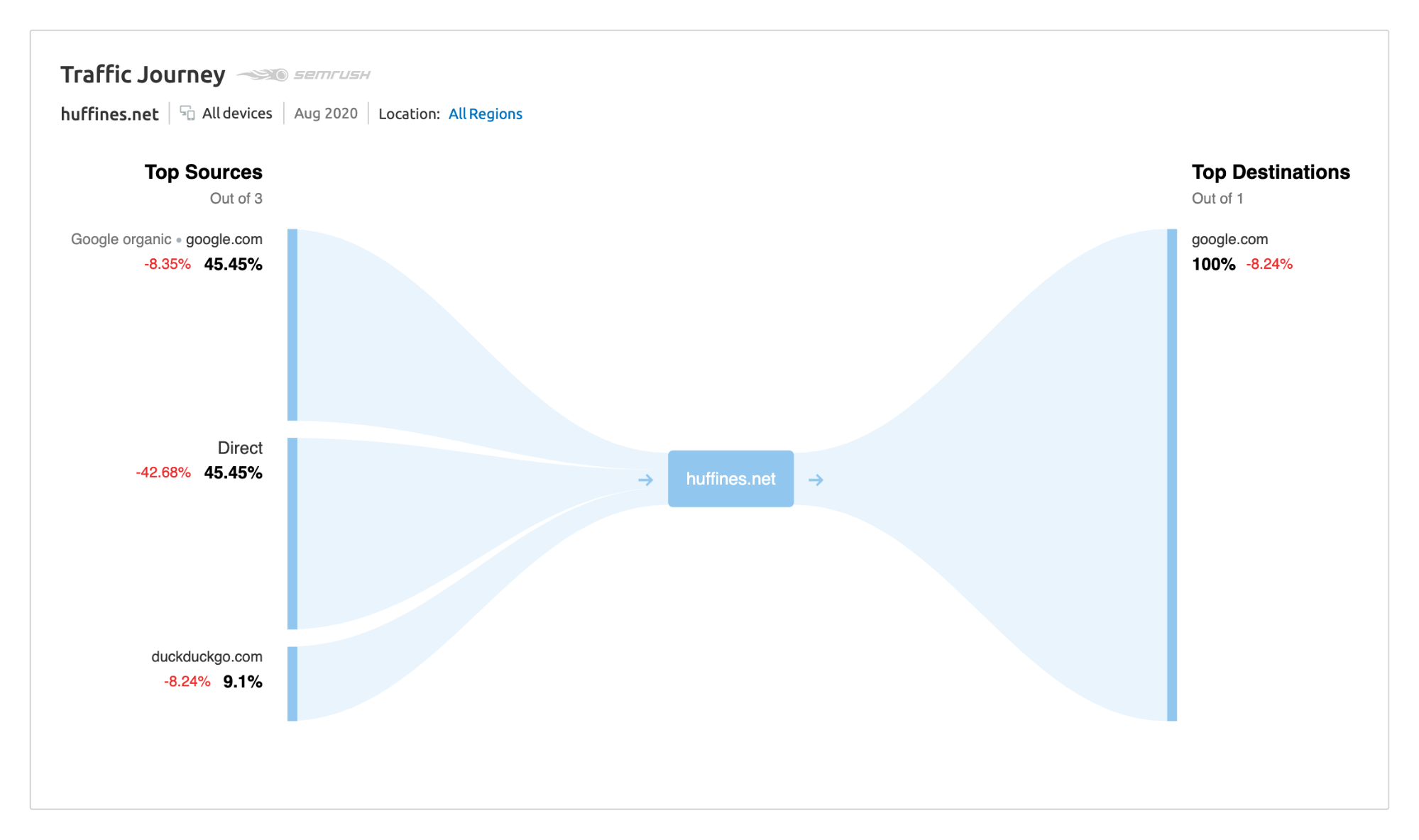 3. Benchmark your prospect's website against its competitors
Finally, check out the Audience Insights report, which allows you to compare the site you're analyzing against a competitor. You can see how much audience overlap there is, so you'll know if they're fighting in the same market. If you scroll down and select "similar category", you'll also get a list of similar sites that match the audience.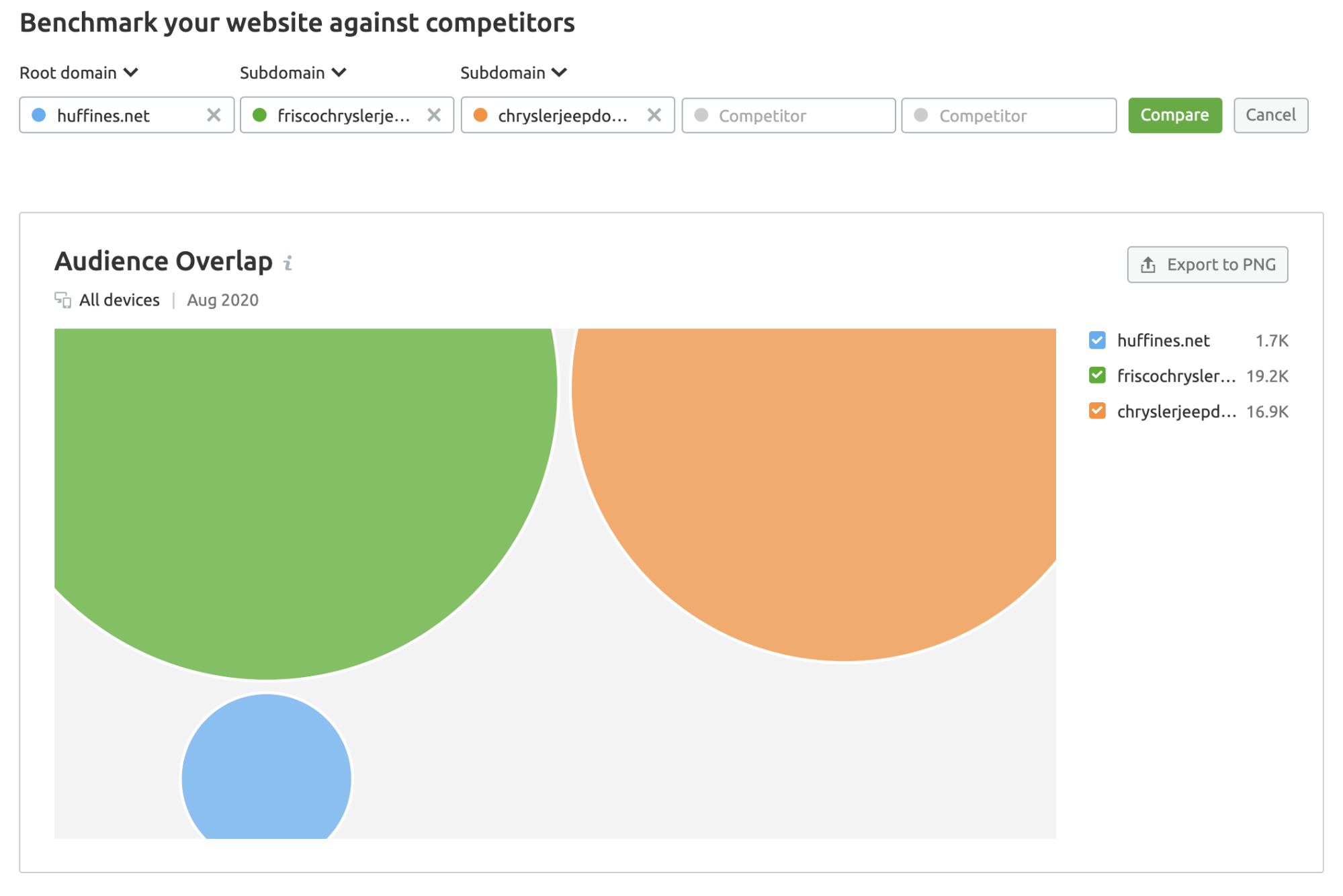 2. Pitching
Pointing out technical SEO problems and offering solutions
Vice President of Search, SearchLab, Semrush Academy Professor, author of Semrush For Agencies course
1. Set up a Project and run Site Audit for your prospect
It's ridiculously easy to get this kind of info out of Semrush with only a few clicks. Go ahead and enter the prospect as a Project and run a Site Audit. Once the audit is finished, check out the site health score – if it's really low, that's a great datapoint to include in your pitch. Then, look at the list of errors and warnings and pay attention to any issues that you know are a big problem. Finally, look at the list of top issues and, again, try to notice any big problems.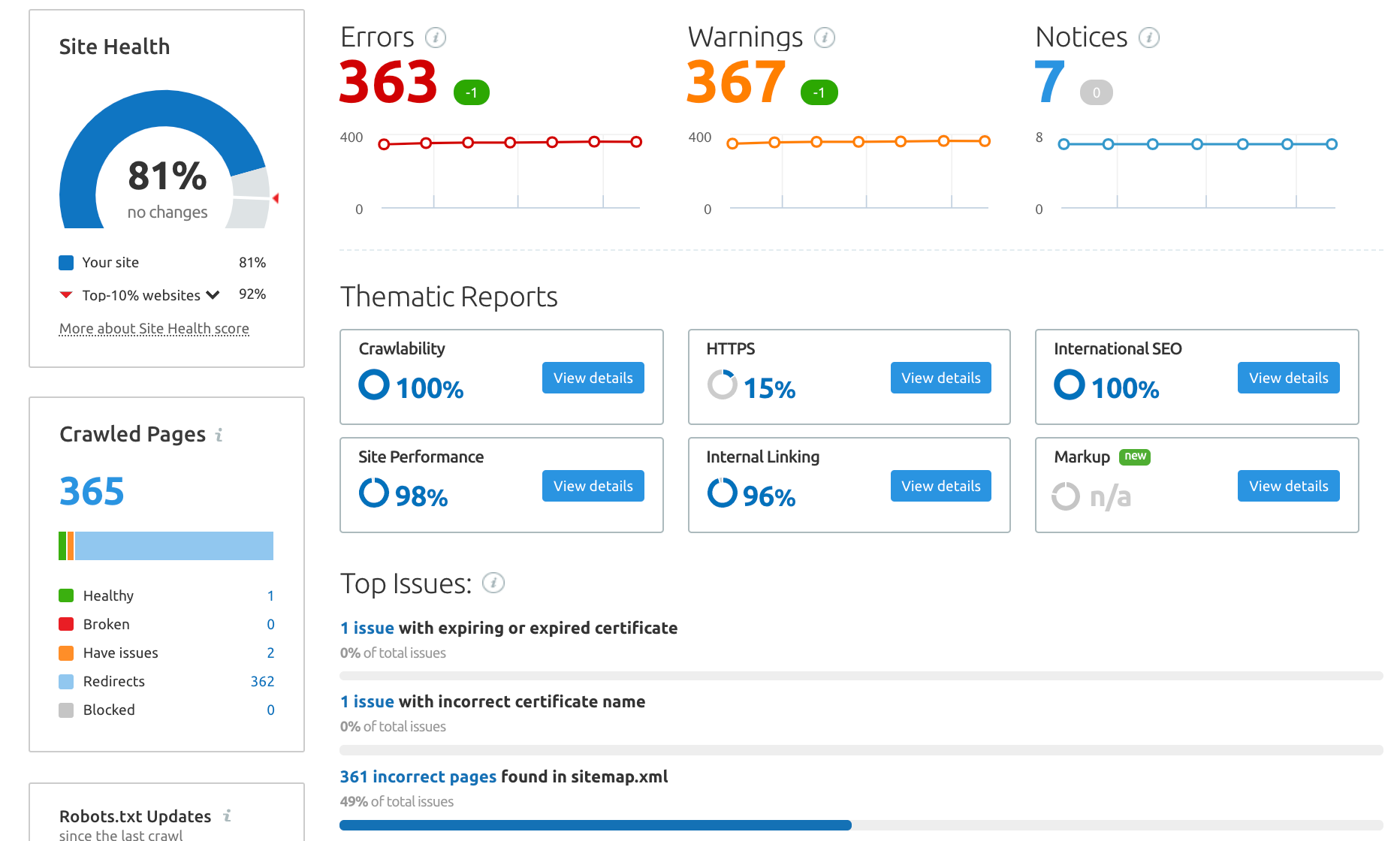 2. Pick out the nuggets of information that can strengthen your pitch
The key is to only include things that are major issues. If your prospect has a 500-page website, and the audit shows that they have 4 duplicate title tags, then that's not really something that is important enough to include in your pitch.
Instead, pick out the important points that help drive home the idea that you're the obvious choice for the prospect. Then add that data to your pitch deck and rock the prospect's socks off!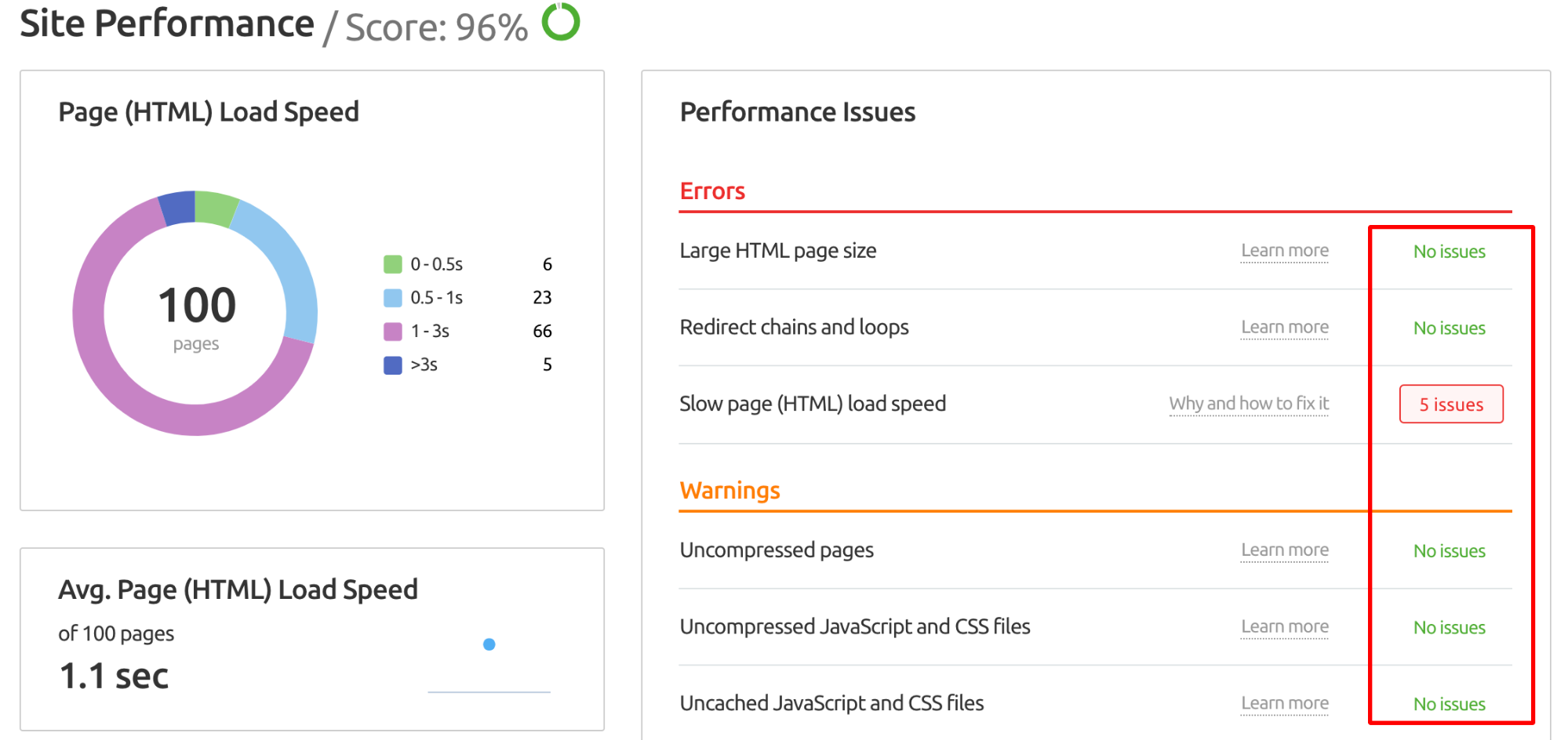 Pitching clients with Market Explorer
Vice President of Search, SearchLab, Semrush Academy Professor, author of Semrush For Agencies course
1. Understand the market surrounding your website
Open the Market Explorer report and enter the domain of the business you want to analyze. As always, make sure you've got the right country database selected and click "research a market".
The industry competitors section graphs out the site's competitors in four quadrants: 
The Game Changers quadrant shows sites with high growth potential.
The Leaders quadrant shows fast-growing sites with high traffic potential.
The Niche Players quadrant shows either new sites or smaller sites with a low growth rate.
The Established Players quadrant shows stable sites with established audiences.
Based on where sites fall in the graph, you can judge what sort of opportunity exists. If you roll over the dot for a site, you can see top level information about it. You can even click the date range and see how sites are placed differently in the quadrants, which gives you even more insight into which ones are better prospects.
If you scroll down, the Traffic Trends graph also shows some useful information. One line displays the traffic trend for the industry you're analyzing, while the other line shows the traffic trend for the specific website. 
If industry traffic is trending up, but the prospect's site has stagnant traffic (or, even better, if they're trending down), then that's incredibly compelling information to share in your pitch.
2. Identify your best prospects
It's also really useful to see the breakdown of traffic generation strategies. The graph shows the traffic mix broken down by direct, referral, organic search, social, and paid – and compares the standard for the industry versus the breakdown of the site you're analyzing. Whenever the site you're looking at shows a significantly smaller percentage of search traffic than the industry standard, you know it's a great prospect.
It's also worth looking at the breakdown of traffic by demographics, again from an industry versus site perspective. Your prospect may have no idea that they're missing out on a significant amount of traffic because they're not optimizing to target the right audience.
The Market Traffic graph shows the share of visits for each channel, and how they trend over time. If you see a big spike or a big drop, that's also good data to include in your pitch.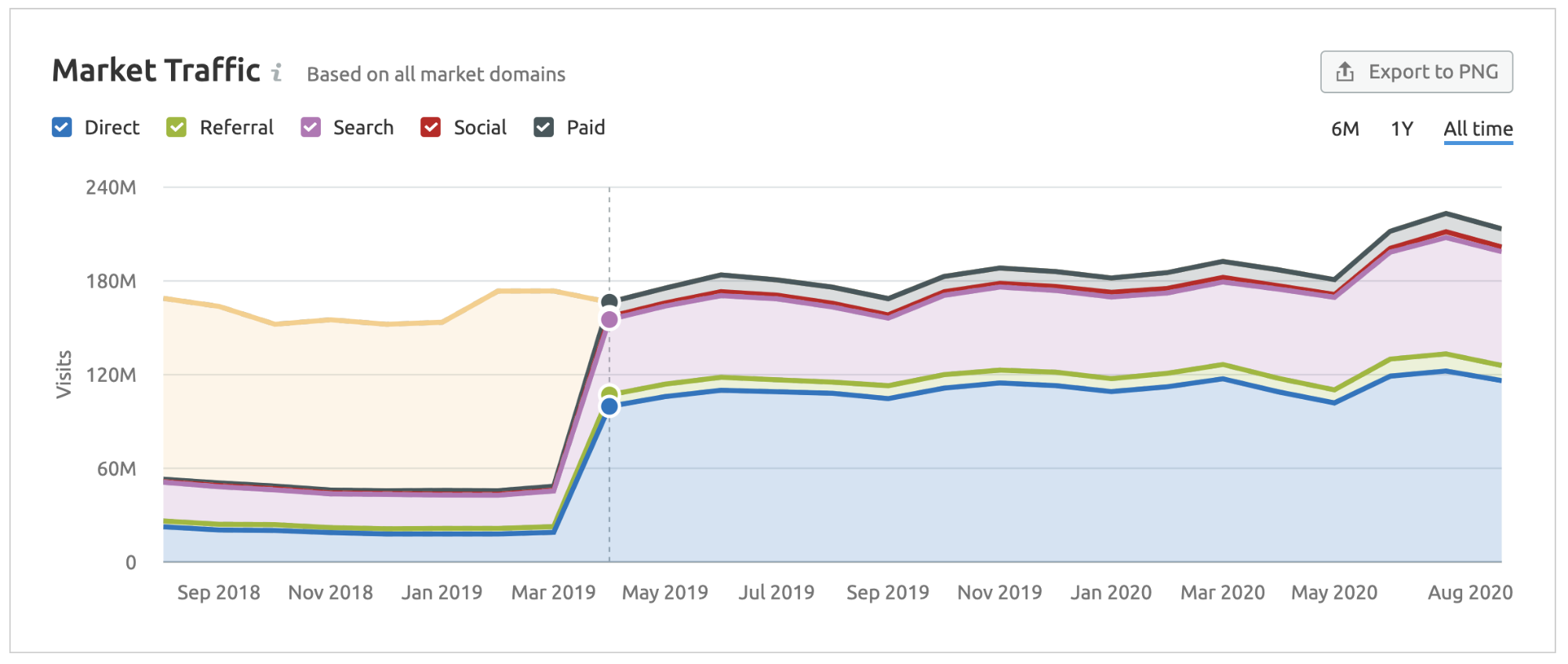 Back at the top of the report, click the All Domains tab. You'll see a list of all the sites that have been identified as similar to the site you're analyzing. Each one of these could be a prospect.
You'll see the total traffic for the site, then a breakdown of the various referral sources. In addition, each source shows a percentage increase or decrease, so check out the Search Traffic column and look for anyone who's got a big drop in search traffic – those are killer prospects!
3. Analyze the client's market position and spot growth areas
The Market Explorer tool will default to looking at the top competitors, but with custom markets, you can run the same analysis on a specific set of up to 20 domains. In other words, instead of using the full industry list, you're looking only at the sites you want to include.
You'll usually find better insights that really speak to the prospect when you use the custom market lists. Instead of the industry at large, you're looking only at the dataset of the sites you include. You can even dial it down to just two or three sites so that you're comparing your prospect to their biggest competitors.
For example, let's say you're pitching Chewy.com, and you want to compare them to Amazon, PetSmart, and eBay. You can also click the link to add sites from the relevant sites list; then you'd just click the plus icon to add them to your Custom Market list. Now you can see all of the Market Explorer data with only those sites included.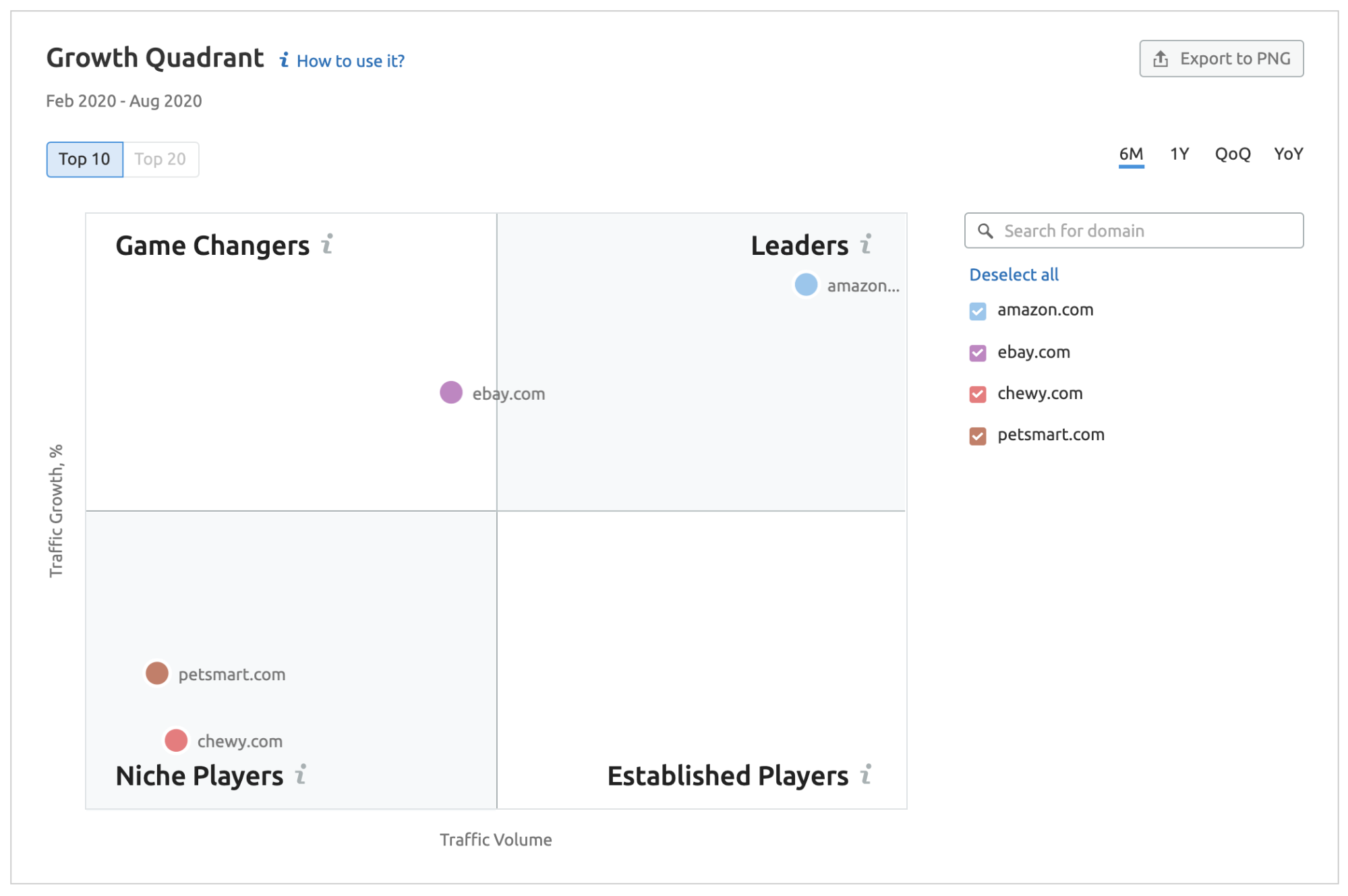 Amazon is obviously high in the Leaders section, and PetSmart and Chewy are still seen as Niche Players, so you might want to base your pitch on taking them from a small specialist to a more powerful competitor.
If you take Amazon out of the mix, the market traffic is now showing the trend for only Chewy and PetSmart. Toggle timeframes – it shows that traffic is slowly trending up, but Chewy is trending up faster. This would be great data to show if you were pitching PetSmart, because they can see first hand how a close competitor is outpacing them.
Turn Amazon back on and scroll down. Now you can see some useful information about the breakdown of traffic strategies. Again, Amazon is basically the same as the market graph, since it's such a heavy influencer, but there's a different mix between Chewy and Petsmart. Petsmart has a much larger pink bar, showing that they get more organic traffic, but Chewy has a bigger paid traffic bar. If you're pitching Chewy, that's great data to highlight: that one of their main competitors is getting significantly more organic traffic. And, since Chewy gets more traffic overall – but has more paid traffic – that means if they gain more organic traffic, they can reduce their paid traffic budget. Thanks to you, they win on the organic front and you save them money on the paid front!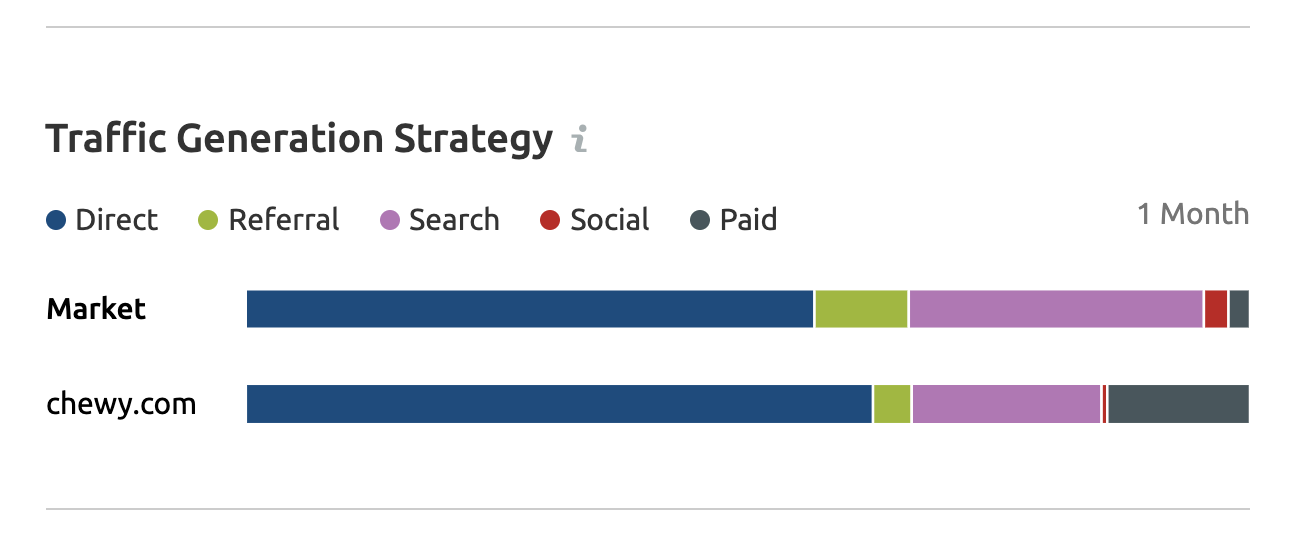 When we check the share of visits by channel, we know that the percentages are skewed because Amazon obviously dominates. With this in mind, you can still see that, while Chewy has almost double the total share of visits of PetSmart, they're still fairly close for organic share – which shows a gap in potential traffic generation strategy. It's also clear that they far surpass PetSmart in paid traffic share, which is, again, not great news. You can pitch them on saving money there to win overall in organic.
3. Managing a Campaign
Gaining rank against competitors and increasing organic traffic
Content Marketing Manager, Brighttail
Ricksoft, Inc. is a software vendor that develops project management apps for Atlassian products. In the face of declining website traffic and evaluations, Ricksoft engaged Brighttail to overhaul the company's marketing strategy, gain rank against its SEO-savvy competitors, and reignite app evaluations.
During its preliminary research, Brighttail identified that Ricksoft was losing organic traffic opportunities to competitors for important keywords, due to a lack of SEO content. Linh Pham, Content Marketing Manager at Brighttail, shares how Semrush's tools helped the agency closely analyze the content strategies of Ricksoft's competitors to determine what they were doing effectively, and where there were opportunities for Ricksoft to gain rank. As a result, organic traffic grew by 2,191% in 6 months, and average keyword position went from 77 to 21 in the same timeframe.
1. Conducting competitive analysis and claiming their space
We started by using product positioning to identify the buyer personas. Then, we mapped out common SEO keywords and identified the top competitors in the market. Once that was done, we started to dig deeper into the competitors' secrets.
The Keyword Gap tool gave us a great head start, as it enabled us to address the information needs that other websites lacked.
Next, we saved all their important keywords in the Keyword Manager for content brainstorming later on.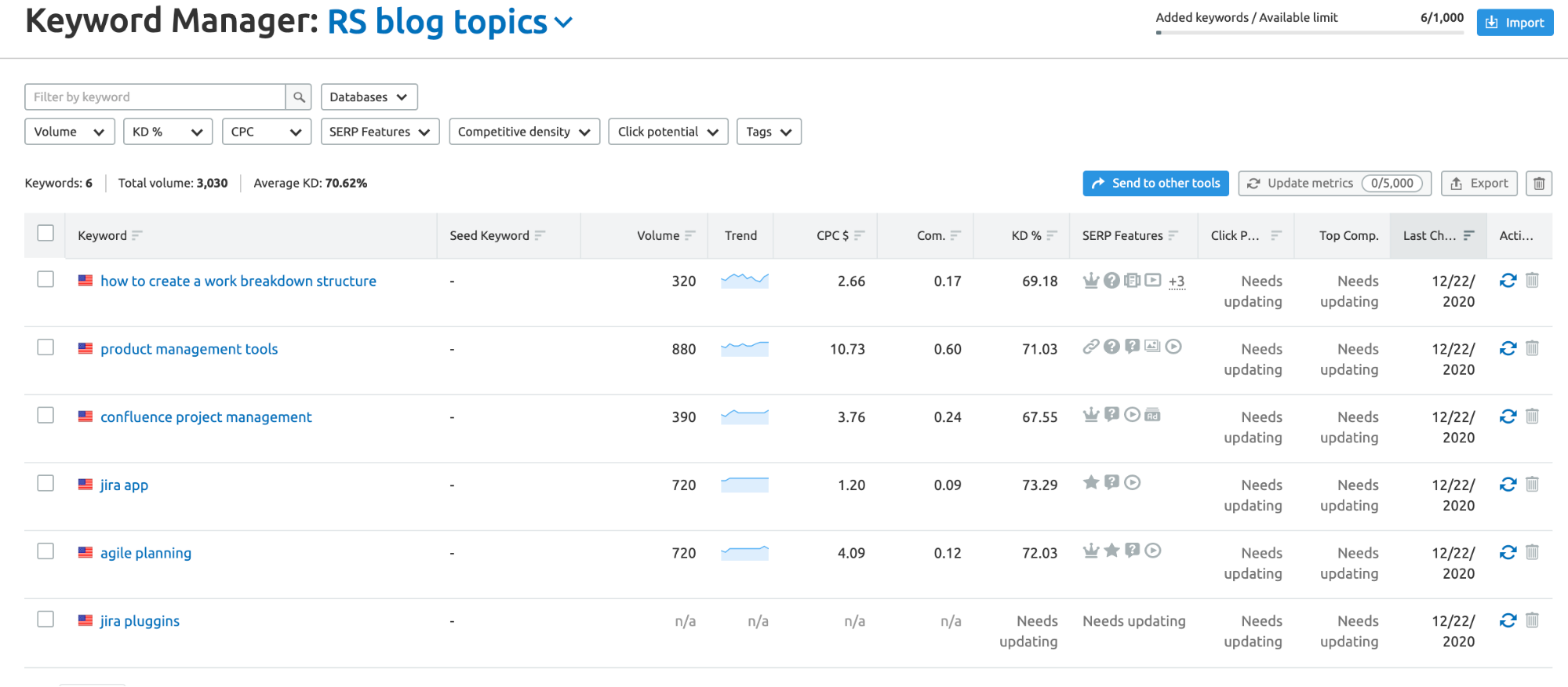 2. Researching content topics
Then came the fun part – and probably our most used Semrush tool – Topic Research. This is where we narrowed down the content ideas based on the keywords identified in the previous step.
The Topic Research tool offers extensive insights into the content that works, and we often look into the question-type content suggestions.

The backlinks report is another important criterion that we consider. Ideally, we want to create content that's not only helpful to the intended audience but also serves as a linkable asset on the website. 

We then populated these topics into a content mood board. Based on this, the team determined the right content topics that would be substantial and unique to the target audience.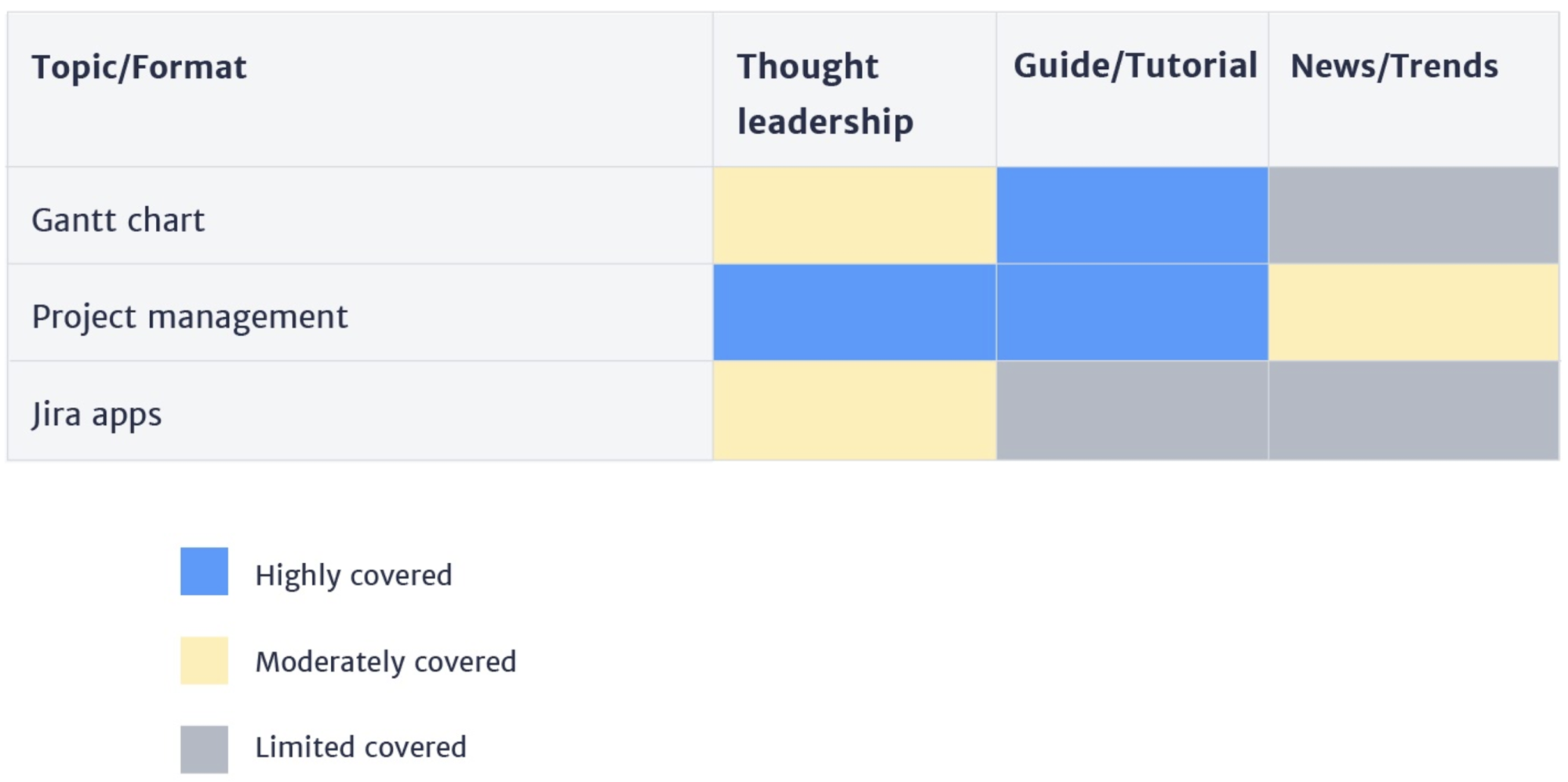 Overall, this exercise enabled us to strategize Ricksoft's editorial calendar. The goal was to deliver more unique content, while investing their content effort in the right space, for the right audience, every time. 
Combining all the steps above, we created a content roadmap to support all the marketing goals:
Gain rank for important keywords.
Increase brand awareness (as a software vendor).
Drive leads via the website (to Ricksoft's app listing on the Atlassian Marketplace).
3. Developing and optimizing content
Of course, the real magic happened when we sat down to write the content. The SEO Content Template tool was a huge help, as we could count on our writers to provide SEO-friendly content.
Notice the backlink recommendations, too – we found these extremely helpful for content distribution as well.
Increasing organic traffic by 83% combining link building and on-page optimization
SEO Outreach Specialist, Catena Media
Catena Media specializes in lead generation within the iGaming and Financial sectors. Founded in 2012, the company operates from offices in Malta (HQ), UK, Serbia, Japan, Sweden, USA, and Australia. Catena Media's ever-growing product portfolio features over 5 million monthly visits spread across their sites.
The team focuses on optimizing the websites of clients and their own brands in terms of off-page activities, utilizing anything from PR campaigns to relationship building with journalists, publishers, agencies, and webmasters. In 2013, it created JohnSlots.com, and in July 2019, started a link-building campaign to restore its position as one of the top market players for slot games in the UK and internationally.
Cosmin Mesenschi, SEO Outreach Specialist at Catena Medial, reveals how their client got 83% organic traffic growth in four months, improved its toxic link score, and grew its domain authority, making it one of the top players in the slot game market and a trusted source for its users.

1. Find content ideas and backlink opportunities
There are a plethora of methods on how to use Semrush for off-page SEO and link building specifically. We have found On-Page SEO Checker to be one of the most beneficial Semrush features, and have used it for JohnSlots and other sites in our UK portfolio.

This tool helps us put together a roadmap for a brand and define focus points. Here, we find content ideas and backlink opportunities for a specific page: the tool analyzes the links our competitors have and shows opportunities for our brands. This doesn't mean your site should have the exact same backlink profile as your competitors, but it's a good place to start. It's always helpful to know what's working for them and what can be improved in your brand strategy.

For JohnSlots, our team reviewed the suggested links and picked the most relevant domains.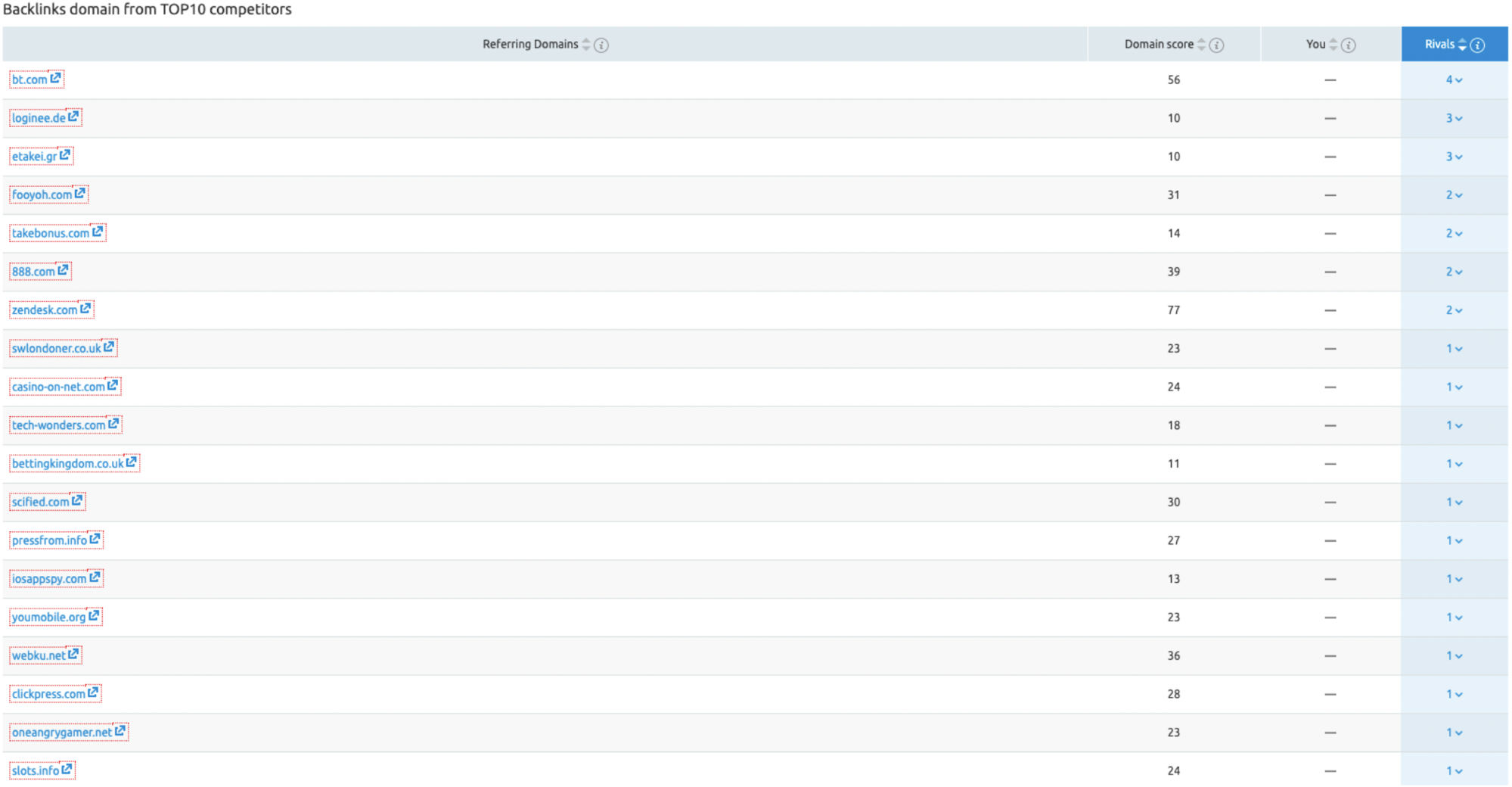 On-Page SEO Checker suggests some backlink opportunities we might not have stumbled upon during our normal outreach activities. These can have an immense impact on the performance of a page.
2. Enrich page content using semantic suggestion
Enriching page content through the tool's semantic suggestion feature has also led to improvements for JohnSlots. This optimization can be especially critical when trying to climb from the lower positions to the top of the SERP, and can have a huge impact on conversions and traffic.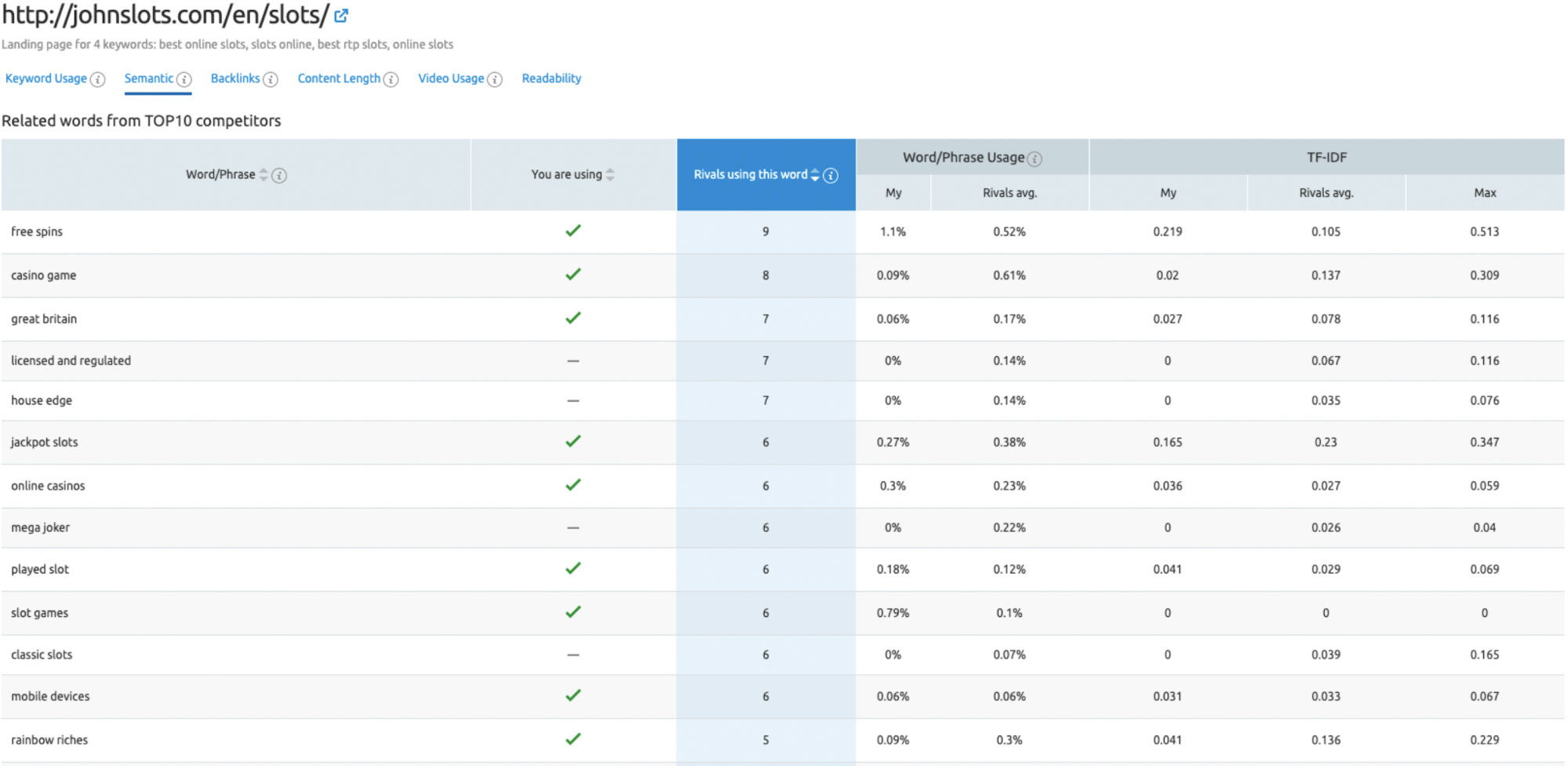 3. Conduct backlink audit and improve the backlink profile
For JohnSlots, the most critical aspect of the strategy was improving the overall backlink profile and making sure they eliminated the effects of the negative SEO attacks. We use the Semrush Backlink Audit tool to help spot any potentially toxic links to the clients' sites, and ensure they keep up to date with disavowing across projects when needed.
In the Backlink Audit dashboard, we check all the referring domains and anchor texts that are pointing back to a client's domain, as well as their values, their type, and if a certain website is toxic for the client's brand.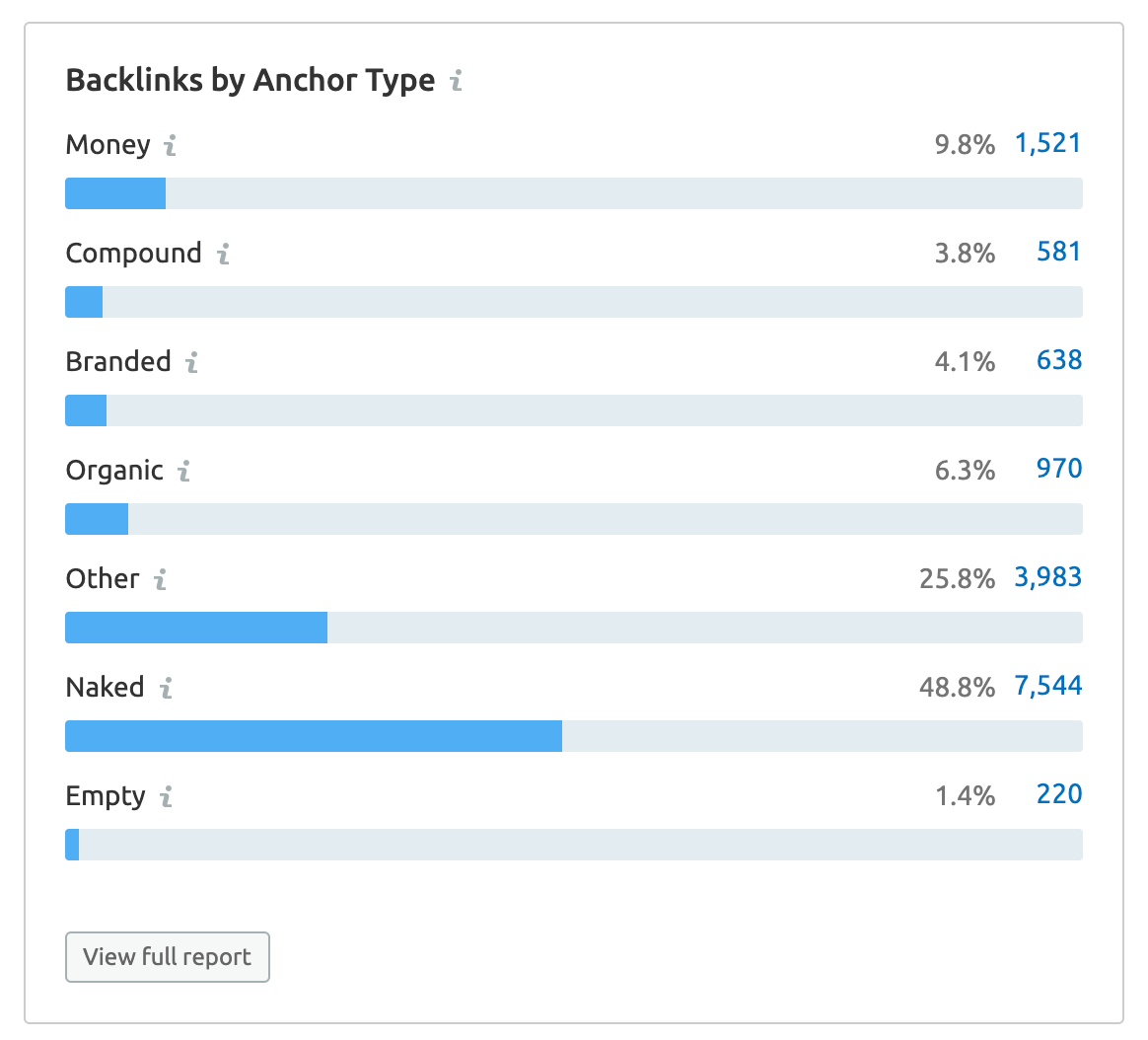 I enjoy the convenience of having all backlink information in one place, especially as it is so easy to understand, manage, and investigate if needed. When we spot a backlink that should be disavowed, we select it and send the link (or the entire domain) to the disavow list.
Once the audit is done, we then simply download the .txt disavow file and upload it to Google. Easy-peasy!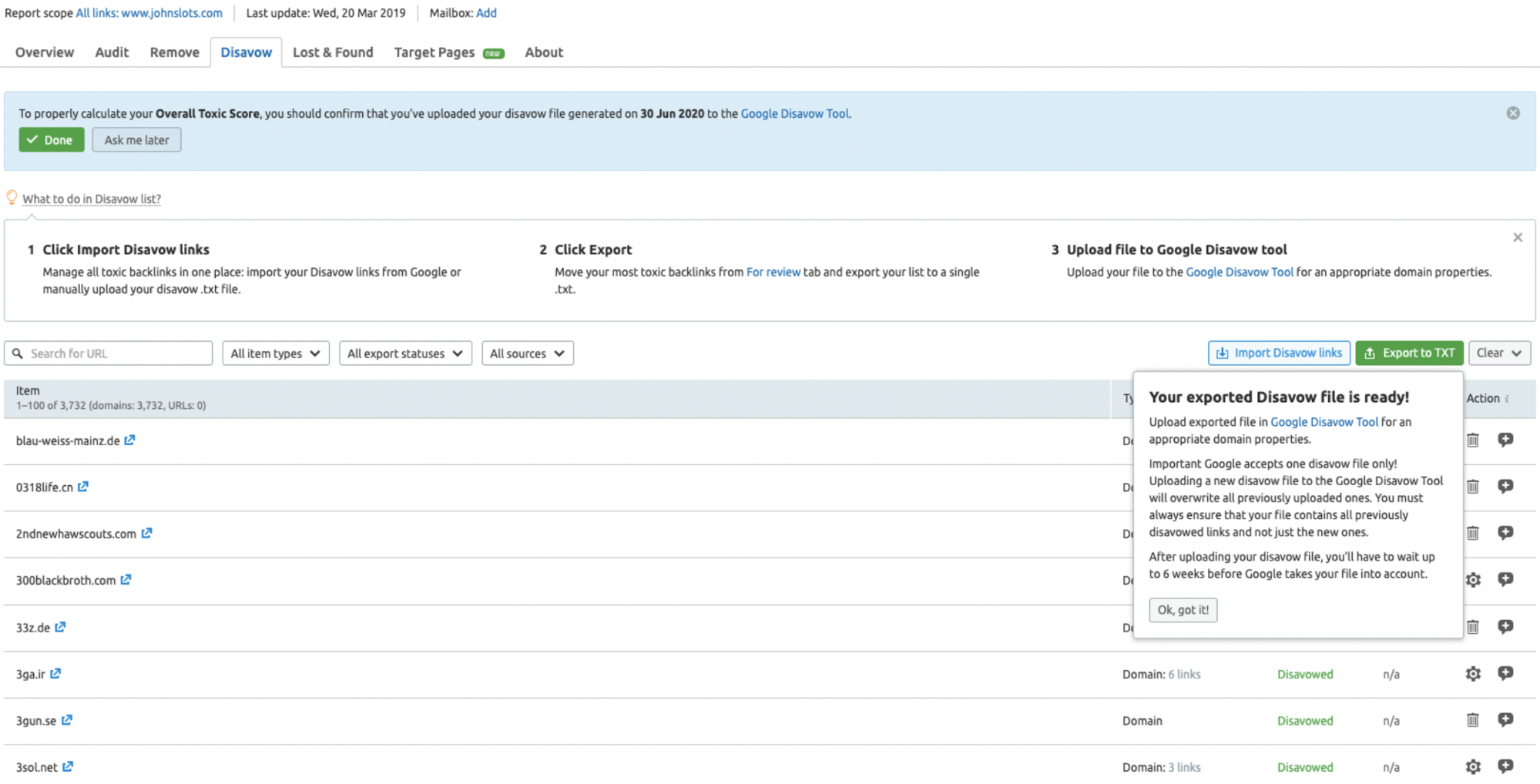 4. Growing client base
Growing the number of clients by 108% and increasing revenue for the proprietary product by 185%
Director of SEO and content marketing, Oneupweb
Oneupweb is a Michigan-based full-service digital marketing agency. The company began as one of the pioneers of SEO, and has been in the industry for 20 years. While the agency works with clients across all industries, the majority of their SEO and content marketing clients are franchise brands such as Mr. Rooter Plumbing, Molly Maid, and Martinizing.
In 2017, they set a goal to develop new SEO and content marketing products in order to provide better services to existing clients, as well as attract new ones. This required a new tool that provided a seamless workflow, accurate data, and addressed the existing struggles at the company.
Freddy Hunt, director of SEO and content marketing at Oneupweb, explains that they chose Semrush because the keyword tracking is much more accurate than their previous tools. In addition, the interface is very intuitive for tracking by zip code, which is important for them since they work with many multi-location brands. As a result, Semrush has replaced several of Oneupweb's legacy tools for keyword research and site auditing/monitoring.
1. Streamline the keyword research process and craft a content plan 
With Semrush's support, we developed three new SEO products. The Keyword Gap tool allowed us to develop a Content Gap Analysis. Using Semrush's tool, we can now streamline the keyword research process and quickly map out a plan for filling content gaps. Building pages for service-related keywords has proven to be one of the most effective ways of increasing organic leads by taking organic leads away from the competition. It's a really quick way to find some big wins for our clients by comparing their search representation to their closest competition.
For example, Mr. Rooter had only one page on their website for plumbing installations. With Semrush, we identified that they were not ranking strongly – or at all – for important specific keywords, such as 'kitchen faucet installation' or 'toilet installation'. We built child pages for all those specific services, resulting in a huge increase in traffic.

2. Develop blog topics to drive organic traffic
Semrush has also been crucial to the success of our proprietary content calendar platform, Condario. Using the Keyword Gap tool in combination with the Keyword Magic tool, we can effectively develop blog topics that are ripe for organic search – and, more specifically, featured snippets. 
The Keyword Magic tool allows us to filter keywords for questions that are likely to show featured snippets in Google search results. This keyword research informs the blog topics and social content in Condario. As content is being produced and promoted throughout the year, we use Semrush to monitor the number of featured snippets we hold, and the projected traffic we receive from them. No tool does a better job of tracking featured snippets than Semrush. For us, it's important to show clients what we're impacting not only on their website, but also on the SERP.
After two years with Semrush, Oneupweb increased Condario revenue by 185%.

3. Optimize the website for local searches
Local Content & Keyword Tracking was developed by the Oneupweb team for their biggest clients – franchise companies. Using Semrush's keyword research engine, we can identify geo-specific keywords for local franchise pages. After optimizing the local homepage for hundreds of locations, we then track the keywords by local zip codes. This allows us to more accurately measure the impact of our local content projects.
These products have achieved excellent results for our clients and have provided the growth we've experienced at Oneupweb. Semrush helps us to show the return our clients get on their investment in Oneupweb.
Semrush has been huge in the sales process. Comparing a prospect to their competition in the Keyword Gap tool is a very strong motivator. If we can show someone that they are not ranking for all of these terms but their competition is, it usually gets them interested in engaging with us.
Tell us about your success
Using Semrush and want to be featured in this collection? Share your experience by sending us your case at agency@semrush.com.
We'd like you to:
Keep it actionable yet concise (500 to 1000 words is best)
Provide screenshots for every step you describe
Mention your results – how exactly it helped move the needle