Discover the global online shopping landscape with global data from mobile apps, web, and mobile web.
2020 was full of talk about the inevitable digitalization of our lives – from education to online museum tours and theatre plays. There were also many firsts, including people who'd never think of doing online grocery shopping or considered purchasing online apparel unthinkable. So, of course, the 'demand shock' – an unprecedented digital buying surge – made the biggest impact on everyday activities like shopping.
This behavioral shift largely affected the already burgeoning ecommerce market as brick-and-mortar stores were (and some still are) shut for months. Yet worldwide, the ecommerce market is estimated to expand only by 16.5% year-over-year (YoY) – a lower growth rate than previous YoY periods. 
With this somewhat forced shift to online, the trend stuck around and the influx of new digital customers led not only to unprecedented consumer spending that often exceeded YoY benchmarks across some retail sectors, but also the fiercest-ever competition for new online shoppers' attention. 
This is precisely what we aimed to explore in more depth, namely how the pandemic affected digital shopping performance and who were the biggest winners of this 'new normal' in 2020.
Knowledge is power, and 2020 reshuffled everything you knew about the ecommerce landscape in pre-pandemic times. So, Semrush combined its traffic analytics power with one-of-a-kind app insights from Apptopia to analyze web and app performance to dissect how the pandemic changed the ecommerce market and uncover the fastest-growing e-tailers of 2020.Read our comprehensive Digital Shopping Performance Report to: Get a helicopter…
Key Takeaways From the Digital Shopping Performance Report
To gather comprehensive ecommerce landscape data, Semrush teamed up with mobile intelligence provider Apptopia to accumulate web and mobile app traffic insights for pinpointing the top online shopping brands in 2020. 
Apptopia provided its app performance estimates based on analysis of 7+ million apps operating across iOS Apple Store (global) and Google Play (global, except China).
Semrush used traffic insights from 1,000 of the world's most visited ecommerce websites across several categories based on data from the Competitive Intelligence add-on.
Without any further ado, let's deep-dive into the key highlights from our collaborative report.
Digital Performance: Top Retailers Worldwide [2020]
In some regards, online shopping behavior is no different from offline – people love places and platforms that help them to find the best deals and products in a single place with minimal effort
Even in digital terms, big boxers had a significant competitive edge over smaller single-brand e-tailers. 
Just take a look at this global retail top ten list: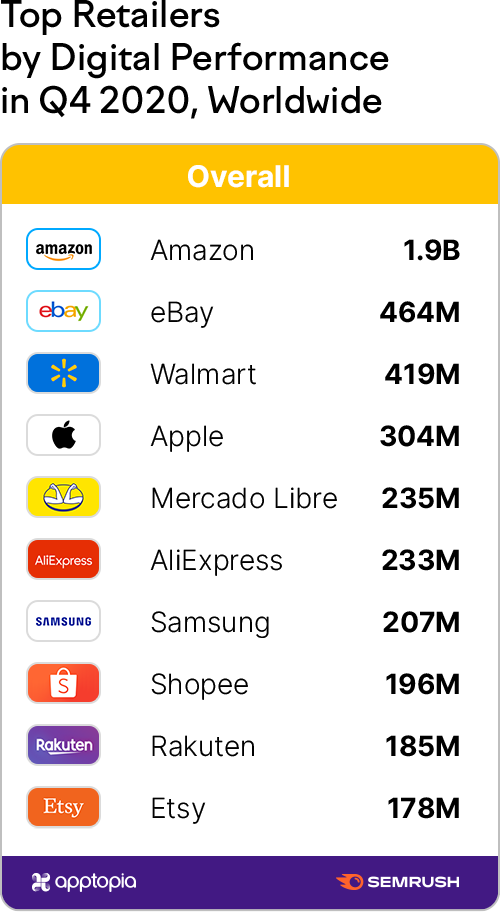 Overall category combines app data (average monthly active users) & Desktop and Mobile web data (average monthly unique visitors)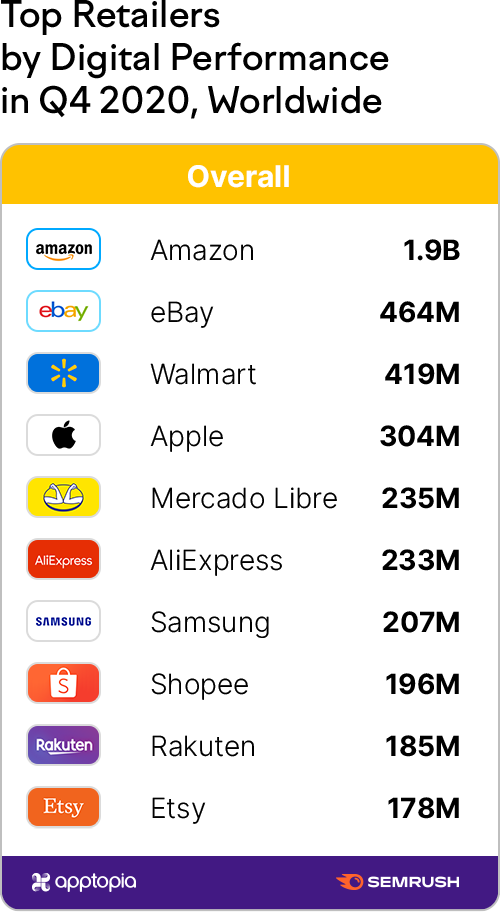 Combine large investments in the shopping experience infrastructure and shipping convenience (think Amazon Prime) with a wide array of products available (from groceries to the latest PS 5) and you'll get the ultimate super-platform that covers the quarantine shopper's entire needs range. 
Amazon completely dominated the global online shopping market both on the web and via mobile app. The likes of Walmart and AliExpress, of course, also got top positions within the 10 most visited retail platforms for online shoppers.
The only single-brand retailers making it to the list are Samsung and Apple – the two unbeatable tech companies whose brand affinity makes up for a lack of product range compared to Amazon and Walmart.
The only exception to this overall super-store trend is eBay, a C2C (consumer-to-consumer) marketplace platform. This is where digital consumers likely went in search of goods that were impossible to find elsewhere during the pandemic and to declutter homes that had become an all-in-one space for work, education, and leisure. 
Global Shopping App Download Leaders
In the app universe, when we talk about app downloads, we imply net new app installs, or new users. Thus, downloads typically reflect how a brand is doing in regard to conversions, because the user downloading the app is fairly far along the purchase funnel. 
Here are the top 10 brands that got the highest influx of new app users in 2020 worldwide: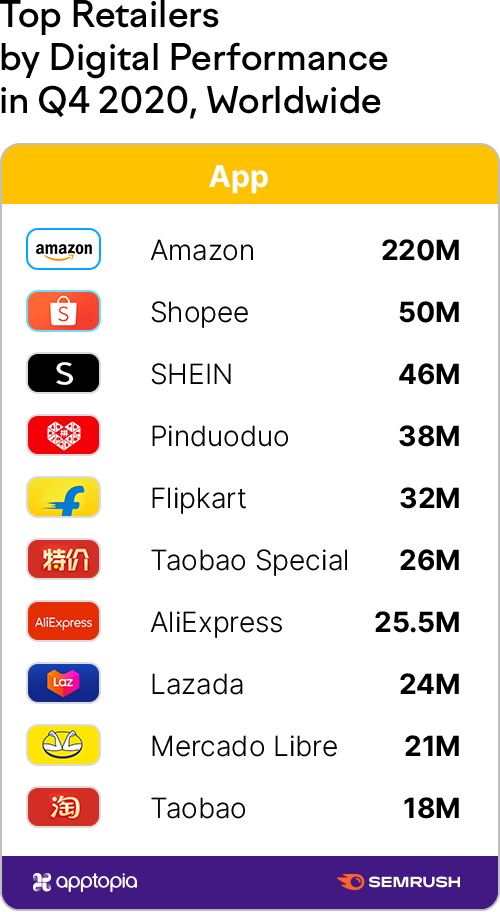 *App data is average monthly active users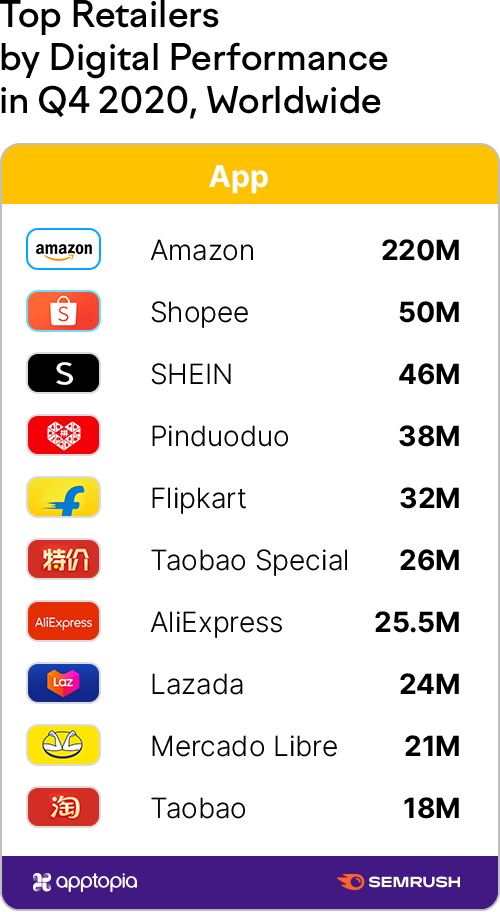 While Amazon is a clear winner here, interestingly, most of the global leaders in this category are fully online platforms without a physical location. 
However, if Amazon, SHEIN, WISH, and AliExpress can be considered genuinely global platforms, some brands are more location-specific, with Shopee's and Lazada's performance spiking across Southeast Asia, Flipkart in India, and Pinduoduo and Taobao in China.
YoY Shifts in Total Shopping App Downloads 
Digging deeper into the numbers, we can take a closer look at YoY shopping app download dynamics across the globe:
The overall download growth is around 17%. Given that app downloads are counted in billions, we are talking about millions of new ready-to-buy consumers. 
Looking at quarterly 2020 figures, we can spot a growing interest in digital retail solutions, despite some efforts to reopen economies and brick-and-mortar businesses.
Top Ecommerce Websites [Worldwide & the US]
As within the app world, on the web (both desktop and mobile) Amazon is the absolute largest ecommerce site on the planet. Some of its regional domains (the US, Japan, Germany, the UK) are taking four spots within the top 10 most visited ecommerce websites globally.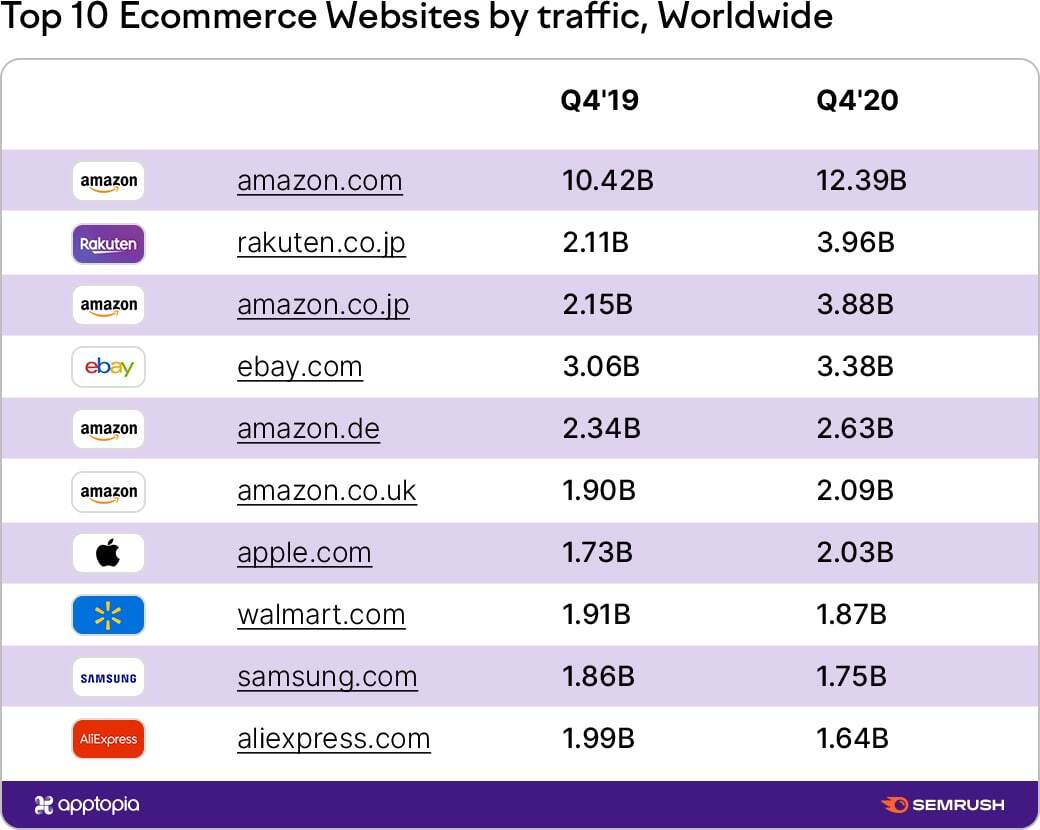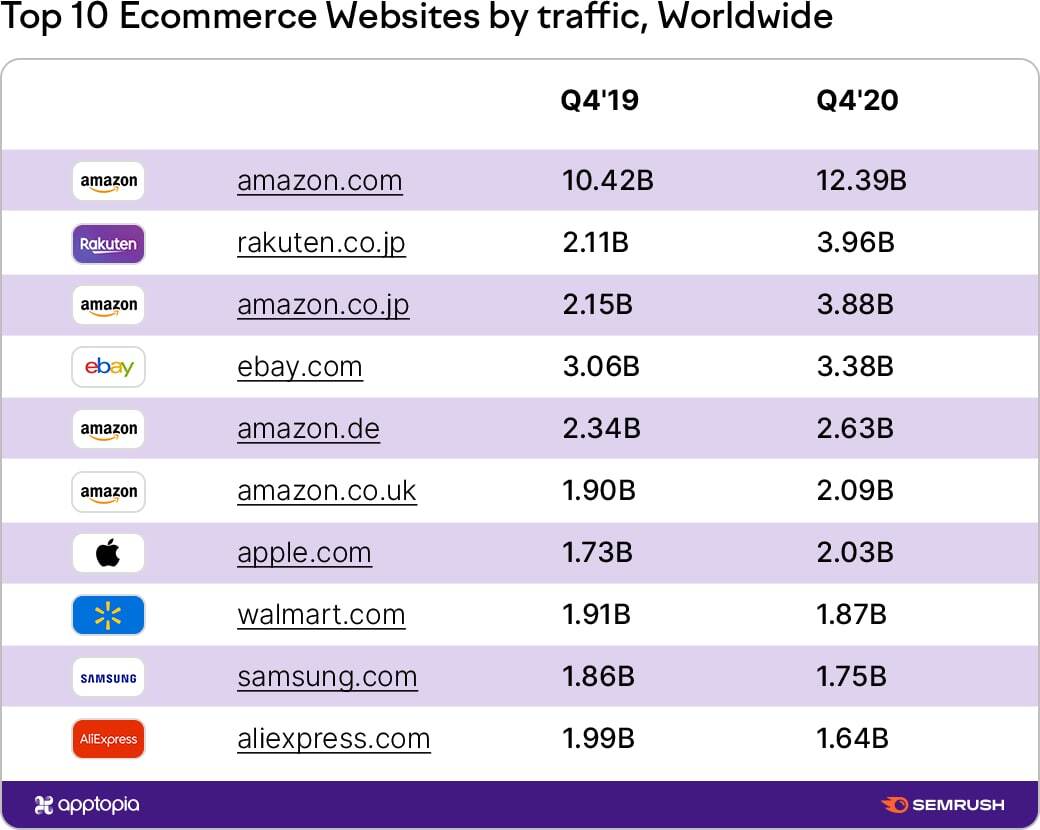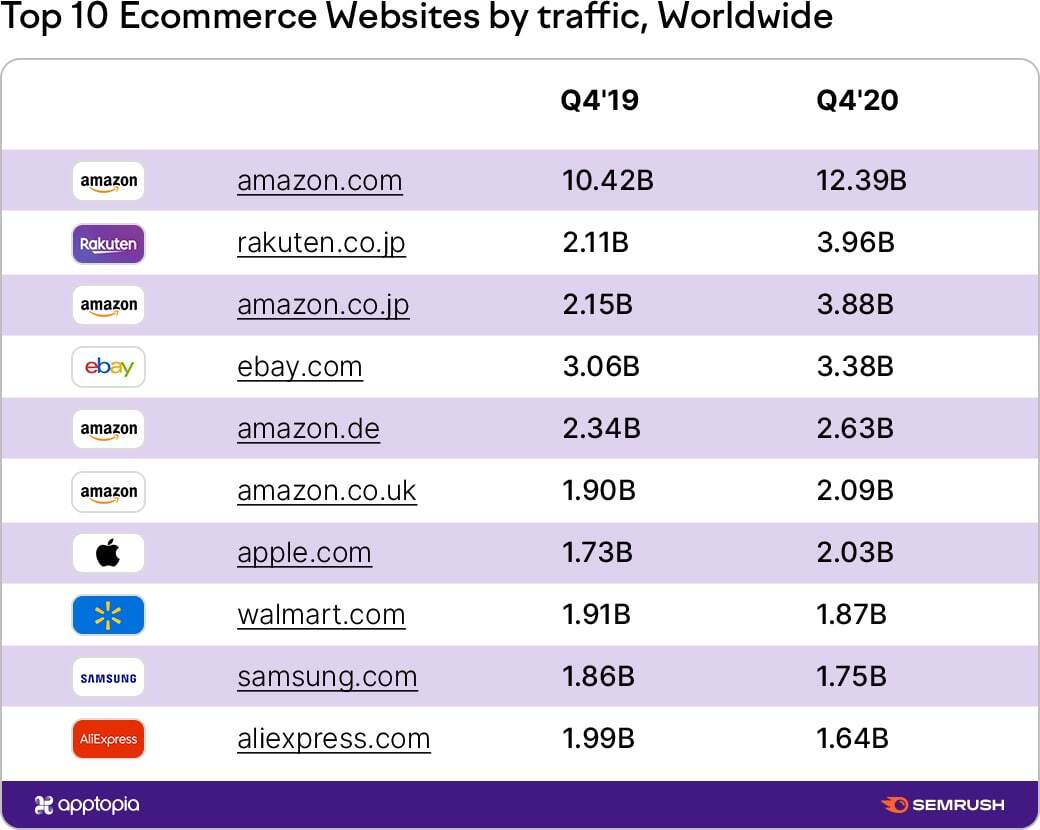 Cumulatively, Amazon sites account for around 60% of the global traffic across the top 10. Thus, we cannot seriously talk about any competition here. Yet, if we look at the top 5, Japanese-based Rakuten and US-based eBay are the only two brands managing to keep up a race against Amazon.
Comparing YoY traffic numbers, Walmart, Samsung, and Aliexpress even lost some online audience. However, with many people opting for online shopping on a regular basis, and thus larger bets on apps, this decrease may be accounted for by the expanding user base of their mobile apps.
Down to the regional level, here are the top 10 ecommerce sites across the US in 2020: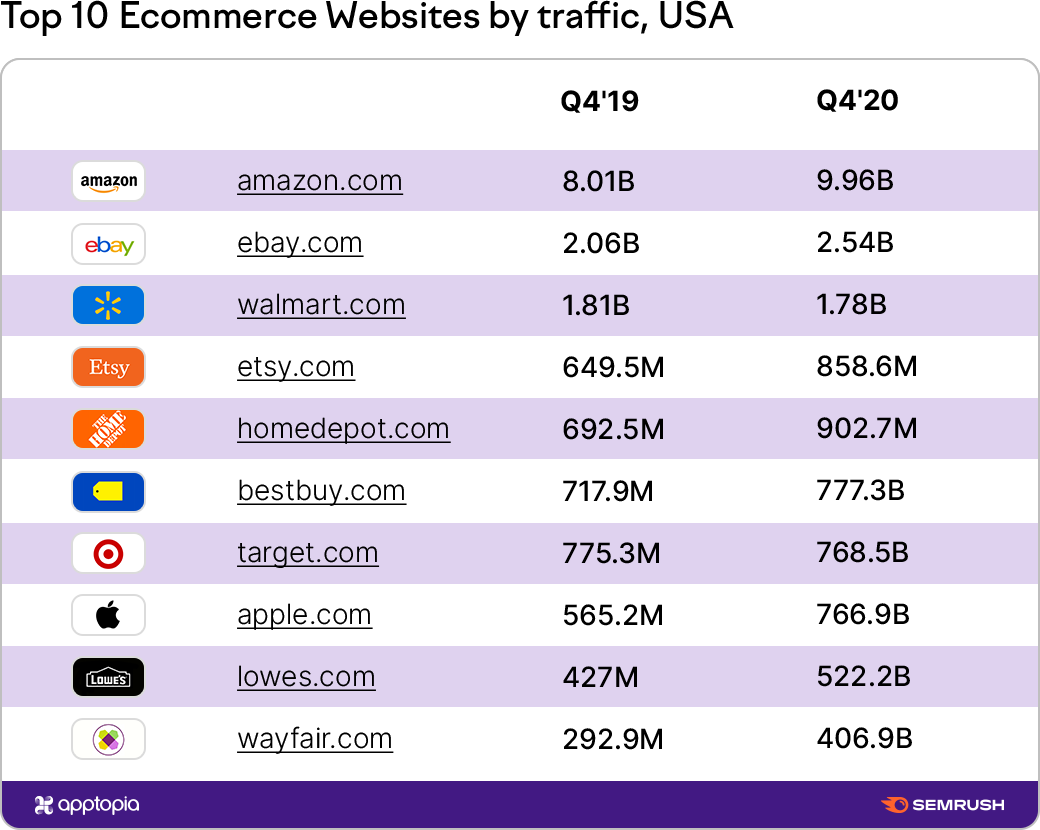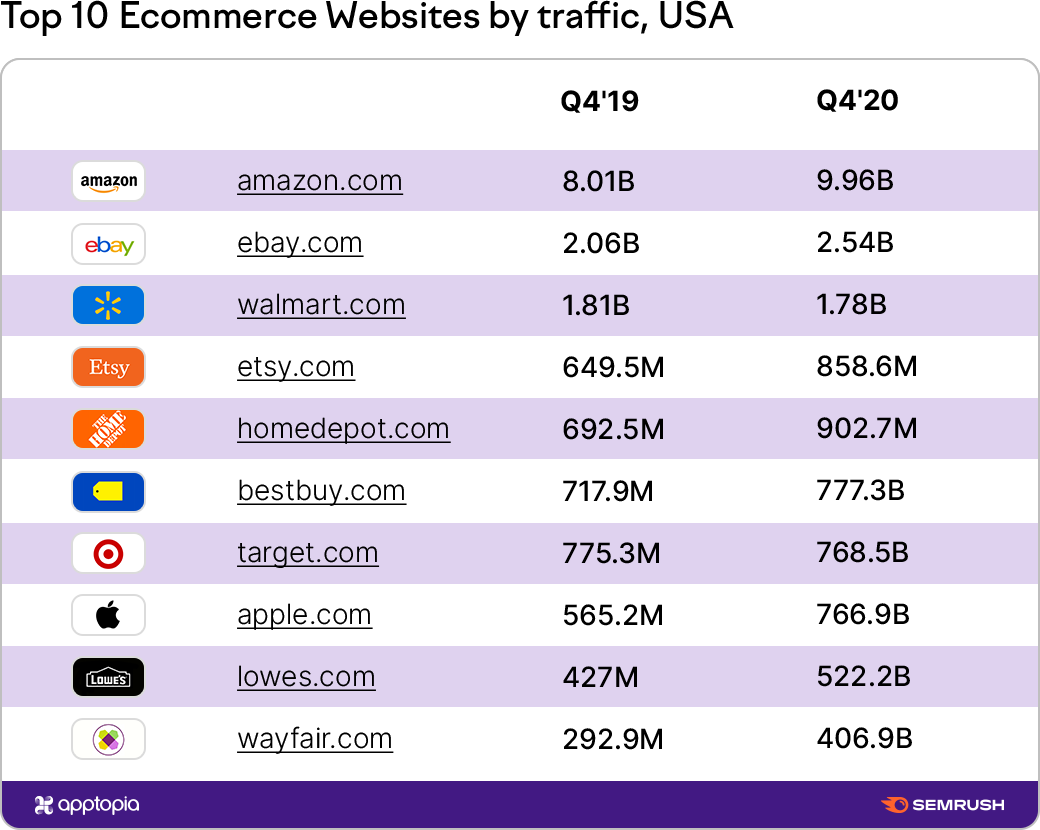 Our most obvious ecommerce winner, Amazon, is also keeping its strong ground on the US market, with almost five times the traffic of its closest competitor, eBay. Despite its already giant status, Amazon grew at a higher-than-market-average rate (16.3%), with its traffic rising by almost 24%.
Etsy's and Wayfair's audience numbers grew at the highest speed, with YoY influx of site visitors reaching 32% and 38% respectively. 
Key Traffic Channels Driving Ecommerce Growth
While the rise in consumer demand is as clear as day, we thought it necessary to dissect which channels bring this newly emerging audience to these top retailers.
From channel dynamics to actual channel breakdown by traffic sources, these insights are invaluable when trying to follow the industry's best practices. 
So, based on overall ecommerce market data and top 5 US ecommerce sites data, let's see what's going on with the top traffic drivers for this segment:
There's no reason to separate global and US traffic data here as the traffic source trends are consistent across the entire market. 
In 2020, direct traffic was responsible for almost 50% of total website traffic on the market. This means that brand awareness and retention are the make-it-or-break-it factors for ecommerce growth. 
Next in line is Search, with a third of the traffic coming from the search engines, followed by Referral, accounting for 14%. Social media traditionally brought in the lowest number of visitors for ecommerce sites, generating only 2.4% of all traffic.
However, looking at the YoY traffic dynamics, the picture becomes slightly more complex:


Social increased its importance as a traffic driver by 30%. With customer support and the window shopping experience moving online, social media accounts provided the only close to real-life shopping feel for consumers. Moreover, some social media platforms like Instagram decided to capitalize on the inflow of new ready-to-purchase users, implementing instant shopping solutions like the 'Shop' tab.
We can also spot a minor 7% drop in traffic coming from Search. With more businesses moving their operations and sales online, the competition skyrocketed, which understandably makes it harder to compete for top rankings, responsible for the biggest traffic numbers. 
For expert forecasts on the emerging high-impact growth channels for ecommerce marketing, make sure to read this blog post. 
Bonus: Fastest-Growing Retail Segment in the US in 2020
Without keeping intrigue, the Buy Now, Pay Later platforms experienced the highest growth rates compared to other market segments.
Essentially, the Buy Now, Pay Later app or site offers exactly what it says – to purchase with the option to pay in installments rather than making one large payment at once. The pandemic clearly affected consumer confidence, despite the relief package, and lowered job/economic stability, leading to the best months and quarters for such solutions.
With Buy Now, Pay Later apps, their 2020 installs jumped by 136% YoY. 
On a brand-by-brand basis, established platforms are taking over most of the market share: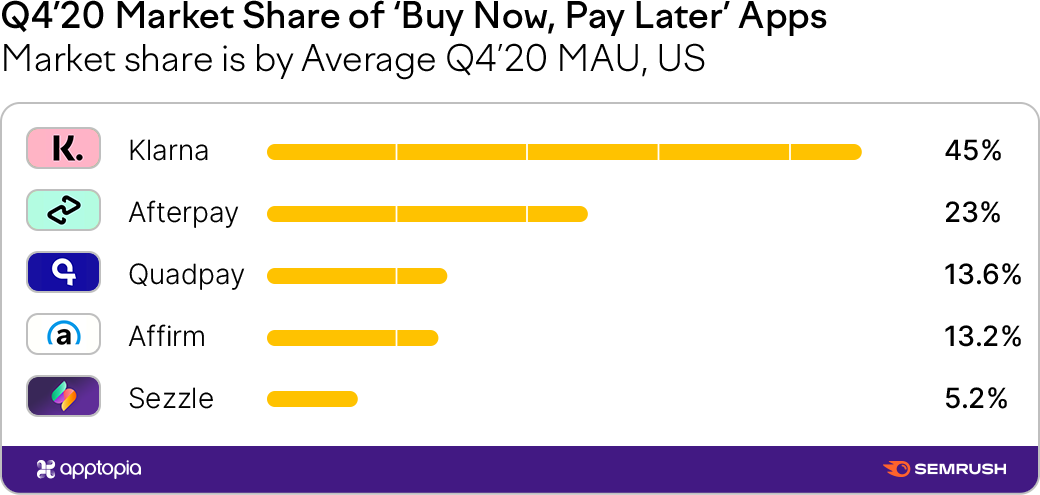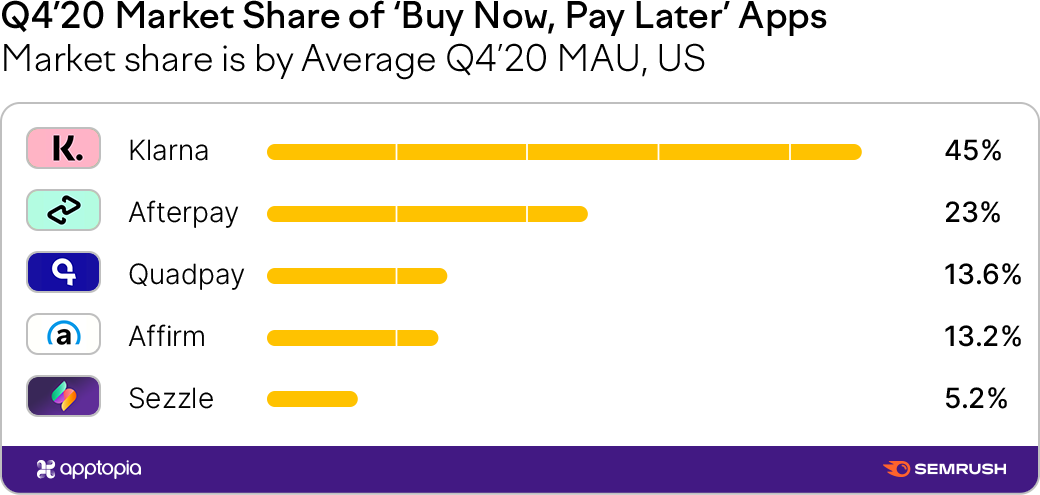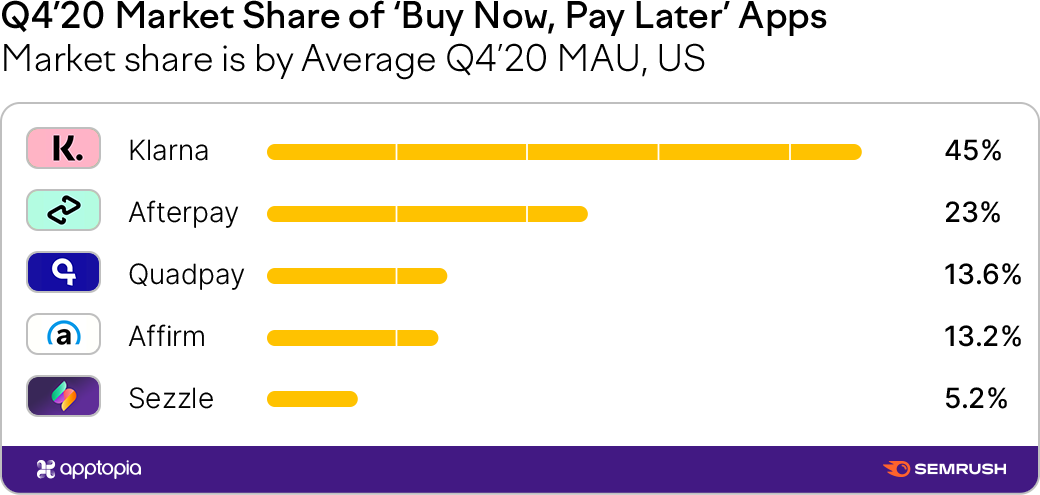 The longstanding Klarna took over around 45% of the Buy Now, Pay Later app market, while Affirm, the oldest app of this type, has a mere 13% of the market share. Newcomers Quadpay and Sezzle only appeared back in March 2019, yet they are already taking over some significant market ground.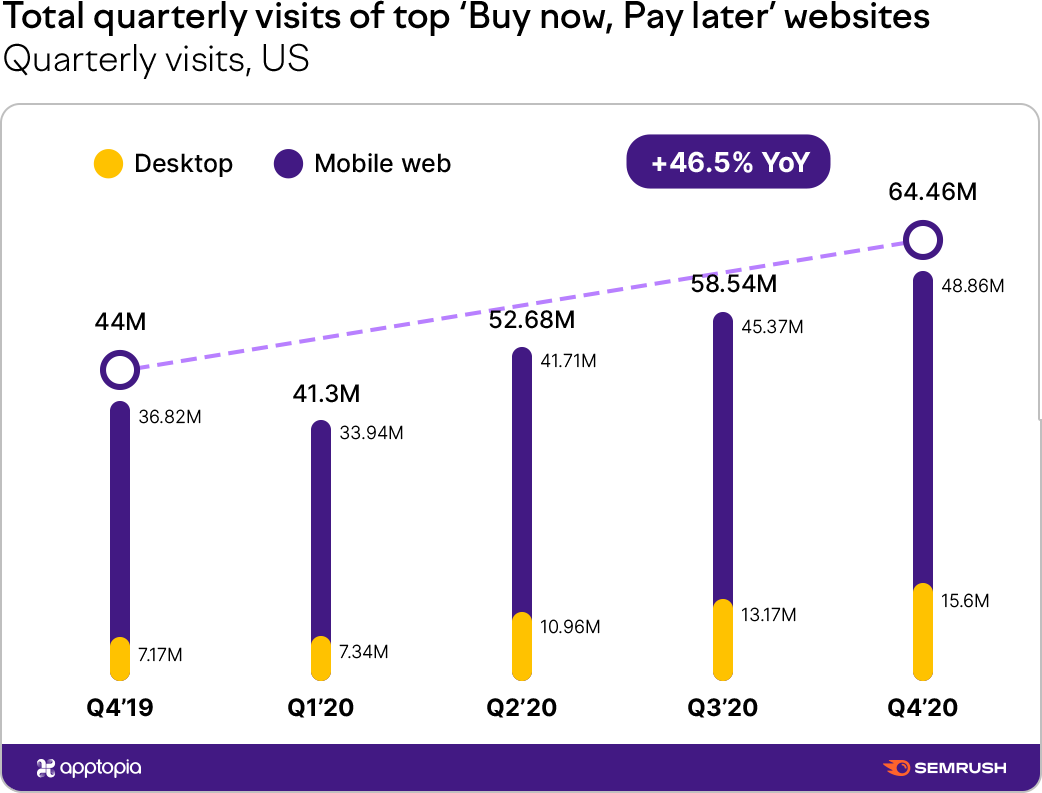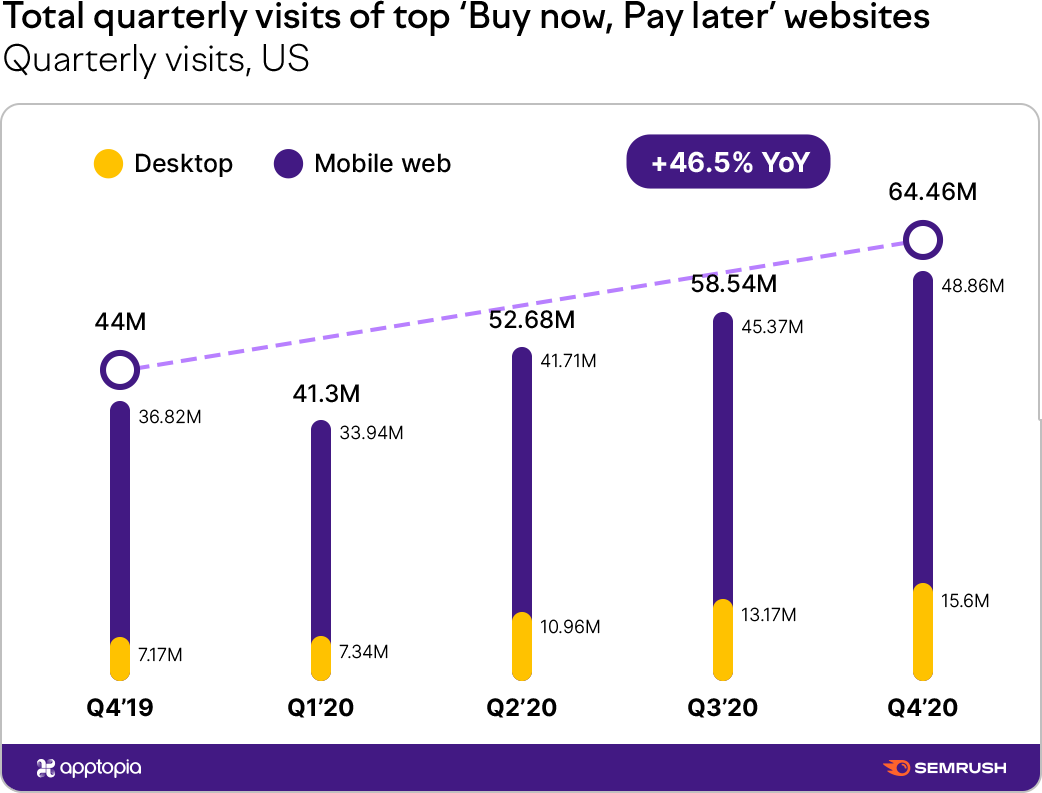 When we further explored the web performance of these apps, we saw that web-wise, with 47% overall traffic growth, the Buy Now, Pay Later segment is also seeing some of the biggest YoY visit spikes.
The app success is largely replicated on their site metrics, with some exceptions:
In the US in 2020, Affirm has the highest audience numbers within the entire market segment. Afterplay comes in second.
The most popular mobile app, Klarna, despite an 82% YoY traffic growth, holds just around 9% of the web market. 
Take a Deep-Dive Into the Full Digital Shopping Performance Report
This post has only outlined a few highlights on ecommerce performance trends and benchmarks. 
For a complete and detailed view of the post-pandemic ecommerce landscape, make sure to go through the full comprehensive report in order to find out:
Performance insights on apps and sites of brick-and-mortar, C2C (buy/sell marketplace), Buy Now, Pay Later, fast fashion, luxury, athletic, sneaker, rewards/coupons/savings brands;

US-specific data on top retailers (app+web);

Regional data on the most popular retailers across the UK, Germany, France, and India;

Top countries by highest shopping engagement;

Detailed analysis of traffic-drivers (channel by channel);

The key audience characteristics of ecommerce buyers.
We hope that armed with these insights and our best-in-class solutions for online wins, you will be able to navigate through 2021 – a year of fiercest-ever competition and, hopefully, an even higher ecommerce growth rate.
Knowledge is power, and 2020 reshuffled everything you knew about the ecommerce landscape in pre-pandemic times. So, Semrush combined its traffic analytics power with one-of-a-kind app insights from Apptopia to analyze web and app performance to dissect how the pandemic changed the ecommerce market and uncover the fastest-growing e-tailers of 2020.Read our comprehensive Digital Shopping Performance Report to: Get a helicopter…